One definition of music, without heaving into a lecture, is "organised sound". The title of the latest series at Kings Place, Sound Unwrapped, could have applied to any of its 14 year-long editions to date. The 2023 season, impressive in its ambitions, burst into action last weekend with a sonic display of startling magnificence: the four drummers of the Colin Currie Quartet, cast asunder like the four winds, performed from each corner of Hall One's gallery. The air reverberated, around and above. A streamlined, pale-oak auditorium of the 21st century became a place of arcane code and ancient ritual.
The work was John Luther Adams's Qilyaun (1998). A listener may not know, less care, that it is written as a four-part canon and a palindrome. The title refers to an Alaska shaman's drum, a vehicle for spirit journeys. All that mattered, in the moment, was the way the rolls and rumbles ebbed and flowed, now louder, now softer, as if thunder had travelled between each bass drum, each set of sticks, each dazzling player. As well as Currie himself, the quartet comprises Owen Gunnell, Adrian Spillett and Sam Walton.
Their programme spanned the delicate timbres of marimba and xylophone in Rolf Wallin's Twine; the cool, clangorous chimes of Connor Shafran's Continental Divide; and David Lang's visually arresting The so-called laws of nature, part II (2002) for metal pipes and drums. Here, the players stand one behind the other as if on a factory production line. The centrepiece was Part I of Steve Reich's 1970-71 classic, Drumming, tuned bongos impeccably synchronised, slipping and looping in and out of phase. Little wonder scientists at a German university have concluded that drummers' brains are wired differently. Julia Wolfe's Dark Full Ride, crackling, eruptive, dangerous, made a noisy and spectacular finale.
Minutes after the bracing assault of the Colin Currie Quartet, our ears were caressed by the intimate sounds of Liam Byrne's viola da gamba. Byrne's usual epithet is that he spends most of his time "playing either very old or very new music", combining his expertise on the baroque stringed instrument with hi-tech electronics. After Picforth's In Nomine, from the 1580s, Byrne played Alex Mills's Suspensions & Solutions (2017), built on ideas of colour, ink and dye. Nico Muhly's Long Phrases for the Wilton Diptych (2015, commissioned by the National Gallery, London) brought this acoustic doubledecker to a poetic close. Byrne's recital was a chance to hear Hall Two's new audio system (28 speakers in the round, 64 channels, for anyone who is asking): whatever was going on, the effect was aurally spectacular – a sonic cathedral, as Byrne described it.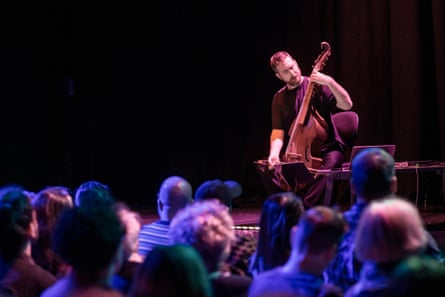 Another pair of contrasting concerts, this time by Southbank Sinfonia at St John's Smith Square, showed the appeal of this kind of flexible model. It breaks the rigid, long-evening mould that, for travel, work or family reasons, can act as a concert deterrent. Twenty expert string players from this "orchestral academy" gave the first concert, incisively conducted by Owain Park. They swept buoyantly through works by Javier Álvarez, John Woolrich, Diana Burrell and Philip Glass.
Then came the woodwind, in a late concert that paired Mozart's Gran Partita, K361 with Mark Simpson's Geysir (2014), written for the same forces. The top international oboist Nicholas Daniel conducted the Simpson, bringing out the work's gurgling, steamy lyricism, french horns and basset horns adding turbulent richness. Daniel had coached the players in the Mozart, an Everest of the repertoire, and it showed. Speeds were well judged, ensemble clean and rhythmic, all kept in check by the rising star clarinettist Oliver Pashley. The mystery of this glorious work shone through.
I don't want to go on about Tár (OK, I do, I do), but if you really want to know about Elgar's Cello Concerto, which features in the Oscar-nominated film, catch up with the Bournemouth Symphony Orchestra's performance, livestreamed from Poole last Wednesday. The cellist Guy Johnston, stepping in at short notice, played Elgar's final work without affectation or dramatic veneer. Here was music-making of the highest order, probing and expressive, analytical and virtuosic. Mark Wigglesworth, in the Cate Blanchett role, cajoled superb playing from all quarters of the BSO. Their performance of Bruckner's Seventh Symphony was restless, lyrical and mighty, the four Wagner tubas glorying in their sumptuous melodies. Catching the wit – yes, even in Bruckner; listen to that scherzo – as well as the grandeur, Wigglesworth showed that in the art of conducting, persuasion is all.
Star ratings (out of five)
Colin Currie Quartet ★★★★
Liam Byrne ★★★★
Southbank Sinfonia ★★★★
Bournemouth SO/ Wigglesworth ★★★★