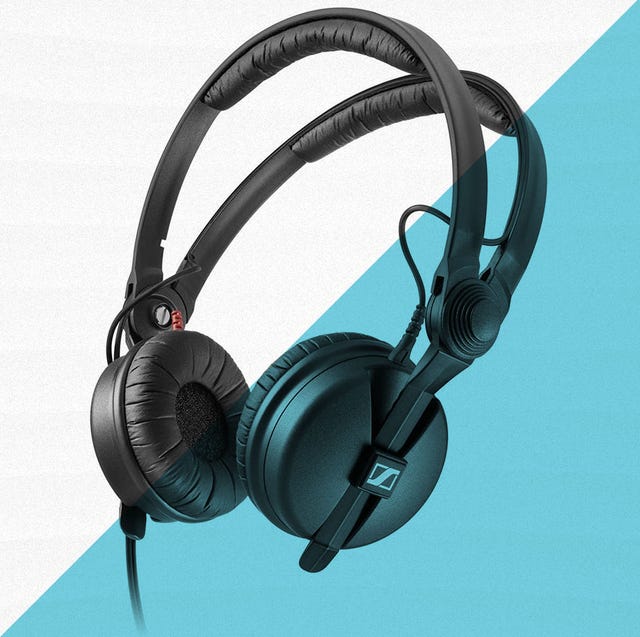 Popular Mechanics; Courtesy of Sennheiser
Whether traveling from venue to venue to move a crowd or playing at home for a radio broadcast, DJs professional and amateur need a solid pair of headphones. When you're in the mix, a pair of dedicated DJ headphones brings crisp clarity to your ears while canceling the loudness of the party you're playing. They'll also help you hear deep-down bass and tinny, high-pitched noises when you need to feel the beat—and good headphones get bonus points if they resist sweat and have rave-level durability.
Finding a reliable pair to bring to your next set may depend on the genre you're playing, your DJing environment, or even the length of time you'll be spinning those records for. If you're looking for an over- or on-ear pair of headphones to wear during that booming set, make sure it's one of these picks.
The Best DJ Headphones
What to Consider
Drivers
A headphone's driver size indicates the pair's diaphragm—the internal part that vibrates to create sound—and can often dictate sound quality.
Theoretically, a larger driver size should result in a louder sound as that gives the diaphragm the ability to move more air. In reality, loudness depends on various factors including a driver's quality, build, position on the ear, signal amplifier, and more. For example, a well-built 20mm driver can sound better than a cheaply made 40mm driver. Still, it's a good idea to skew toward the larger side of driver sizes when purchasing DJ headphones as they're built to produce stronger sound waves and intense bass.
Headphones are often made with drivers between 20mm and 50mm. Those made with larger diaphragms accurately represent the music being played rather than muffling sounds with overbearing bass and screeching highs, which is why audio engineers and DJs sometimes refer to their headsets as monitor or studio headphones. For DJing monitors, most people prefer drivers over 40mm.
Style and Features
Let's get it straight: DJ headphones are just headphones. Whatever pair of headphones you're gravitating toward may suit you just fine on and off the stage. For making or mixing music, find a pair that's comfortable enough to wear for hours. Look for cushioned headphones that sit over the ear rather than on top of them to prevent a build-up of sweat and discomfort over time.
Over-ear options also typically have better sound isolation, which brings clarity in loud environments. You might also want a pair with rotating capsules that support single-ear listening. As far as features are concerned, noise cancellation may be helpful to block out all noise from outside of your headphones.
Serious DJs use wired headphones so they don't lose audio quality over Bluetooth transmission, so we made sure to recommend options that have wired compatibility. Wireless headphones are usually more expensive as they require more costly parts to integrate Bluetooth connectivity, which digitally processes audio to your ears. Wired connections, on the other hand, rely on analog technology that doesn't compress audio during transmission.
Frequency Range
The amount of bass, mid, and treble a pair of headphones can output is revealed in its frequency range. Sound frequency in headphones is measured in hertz. Generally speaking, the low end of the range represents deep bass notes, while the high end of the range represents high-pitched sounds, such as cymbals or dings. A pair of headphones advertised with a frequency range of 16 to 22,000 Hz, for example, can output a 16 Hz frequency of bass and 22 kHz of higher pitches.
The standard frequency range for headphones is 20 to 20,000 Hz. Unless you're a true audiophile, you probably don't need to be a huge stickler for these numbers—but most headphones made for the purpose of DJing have a range of at least 15 to 22,000 Hz. Depending on the type of music you're bumping in your headphones, an even bigger frequency range might be more important to you. If you're big into EDM, for instance, go for a set with super low frequencies available so you can hear all the bass (but remember, your headphones are just monitors—what the crowd hears depends on the speakers at the venue).
How We Evaluated
To find the best pair of DJ headphones on the market, we consulted a handful of publications with authority in DJing, such as Music Radar, Headphonesty, DJ Booth, and The DJ Revolution. We also searched Reddit to see what headphones were frequently recommended by subreddits like /r/DJs and /r/Beatmatch. We considered bestsellers with high user ratings at retailers like Amazon, Guitar Center, Best Buy, and Sweetwater, recommending only the best DJ headphones of various styles, features, and price points.
Need more ear candy? Check out our picks for the best noise-canceling headphones, gaming headsets, and Beats headphones for bass lovers.