Concert-goers can rejoice with back-to-back concerts in Tauranga this summer – with Bay Dreams and UB40 bringing the beats to start off the New Year!
First up is festival favourite Bay Dreams, which is set to be one of the hottest music highlights In Aotearoa for January 2023. Incredible international acts will headline the festival from Diplo, Sticky Fingers, Denzel Curry and Hybrid Minds performing their live drum and bass show 'Outline.'
"We've spoken about bringing our Outline live show to NZ for years, and it's surreal that we're finally doing it. To say we are excited is an understatement, it's going to be incredible!" says Matt Lowe of Hybrid Minds.
Organiser Mitch Lowe says: "We've pushed the boundaries on shows throughout the year, and we will be taking all of our learnings and implementing them at Bay Dreams 2023, to make sure it's a festival experience that is talked about long after Diplo plays his final tune".
Playing among these dynamic musical forces will also include onefour, Freddie Gibbs, SG Lewis, Elderbrook, Bou and much more!
Bay Dreams 2023 will be held at Trustpower Baypark, Mount Maunganui on Tuesday, January 3.    
The very next day one of reggae's most successful acts, legendary British band UB40, will grace the stage in Tauranga! In celebration of their 40th Anniversary (2020) UB40 will give audiences a taste of their classic hits like 'Food for Thought', '1 in 10', 'Red Red Wine', 'Kingston Town' and 'Can't Help falling In Love With You'.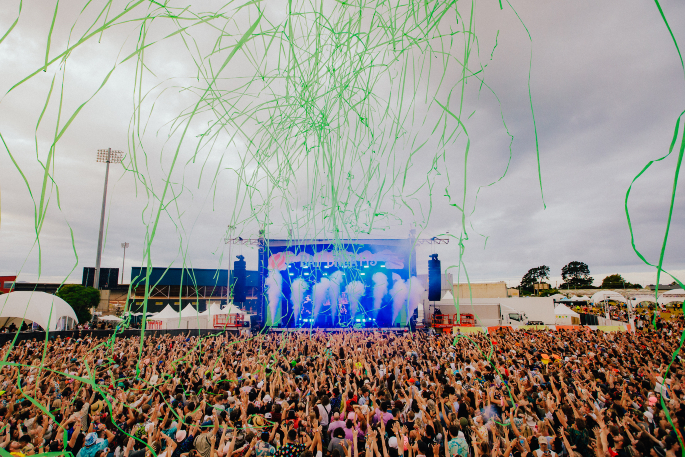 Bay Dreams is a 'summer must' for any festival-lover. Photo: supplied.
"We always look forward to trips down under," says the band in a statement about their New Zealand tour. "It's one of our favourite places in the world to perform, but with so many uncertainties in the world these past two years, we felt it was far more important to focus on everyone's safety. Now that borders have reopened, we're finally ready to get back to New Zealand and perform the show fans have been waiting for!
Joining these reggae icons on-stage is legendary Jefferson Starship and Australasian heroes Dragon. These smooth reggae sounds are not to be missed this summer!
UB40 will be held at Trustpower Baypark, Tauranga on Wednesday, January 4.
Tickets for BayDreams are available at: https://baydreams.co.nz/ and UB40 tickets are available at: www.trademarkgroup.co.nz