Pungamchal (Vellarikundu): It is day break, but Panjurli — the most revered and feared theyyam of Malavettuvan and Mavilan tribes — is not done yet.
Since the early hours, Panjurli's wild cries have been piercing the darkness of night at Pungamchal, a hamlet in West Eleri hill panchayat in Kasaragod, the northern most district in Kerala.
His acrobatic dance wearing plain khaki shirt and trousers sway devotees into a trance. Many are seen trembling in awe.
Now, wearing a flowing skirt made of tender fronds of coconut, Panjurli is whirling in circles. His doting sister Kallurti is matching his steps and rhythm.
Around 60 devotees were still standing around the courtyard of Aanadi Chamundi Bhagavathi Kshetram, a shrine on the banks of the Chaitravahini river. It is central to the lives of 60 Scheduled Tribe families belonging to Mavilan and Malavettuvan communities in the two nearby colonies.
"The sound of his anklets (chilambu) is exactly like in the movie," says a young Madhavan, referring to 'Kantara', which revolves around the legend of Panjurli, an incarnation of Varaha, the wild boar avatar of Vishnu.
As the day lights up, Shakuntala, a middle-aged woman, arrives with her offering, a plum country rooster.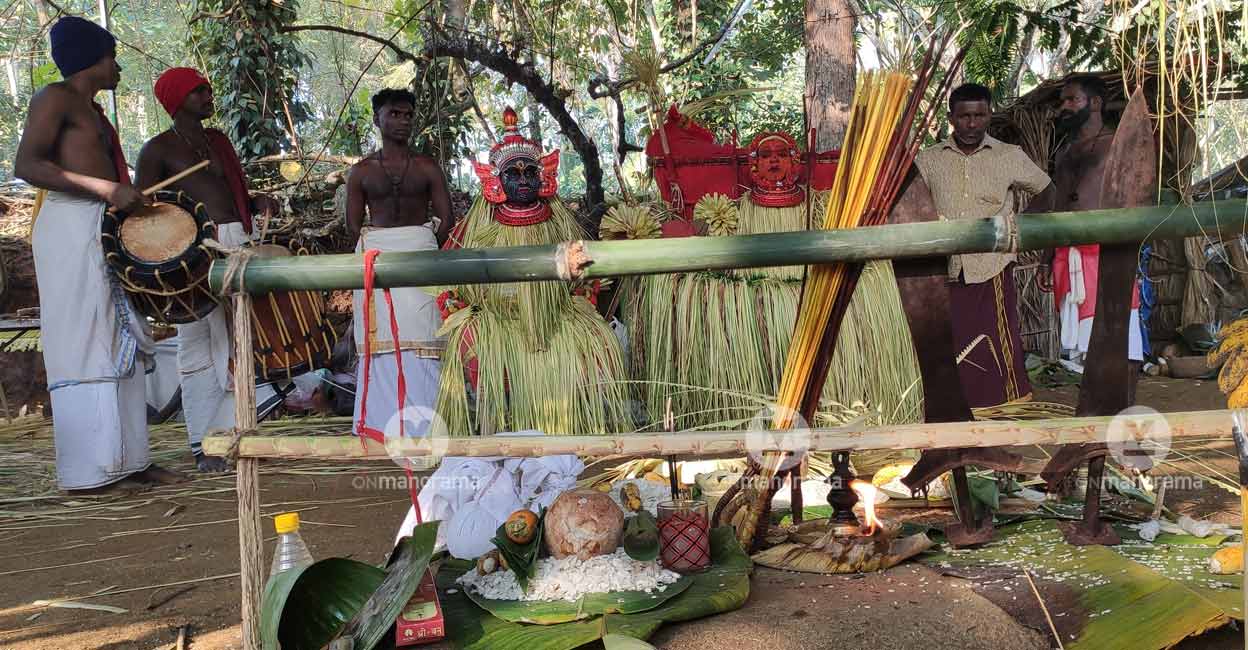 "Is it for the temple or the theyyam," asks an organiser.
"It is for Panjurli," says Shakuntala, slightly miffed with such a question.
"I have been raising it for two years to offer to Panjurli. I am here to thank my god," she says.
The rooster is tied upside down on the theyyam's headgear. The next rooster offered by her husband is also tied to the other side of the headgear.
Over the years, Shakuntala's neighbourhood was pestered by a marijuana peddler from neighbouring Karnataka. He was a nuisance every night.
"I prayed to Panjurli to pack him off from our village. But I never wanted him to be excused from the earth," she says, feigning a tint of sadness.
The goon was fatally run over by a truck four years ago. "His face was beyond recognition," says her neighbour Damayanthi.
Another man says he and his son became ardent devotees of Panjurli several years ago after the god saved them from the Excise officers. "They came charging in and my son did not have any place to hide the pot full of arrack. He prayed to Panjurli and threw a few coconut fronds over the pot. "Panjurli blinded the Excise officers. They checked everywhere but did not check under the coconut leaves," says the father.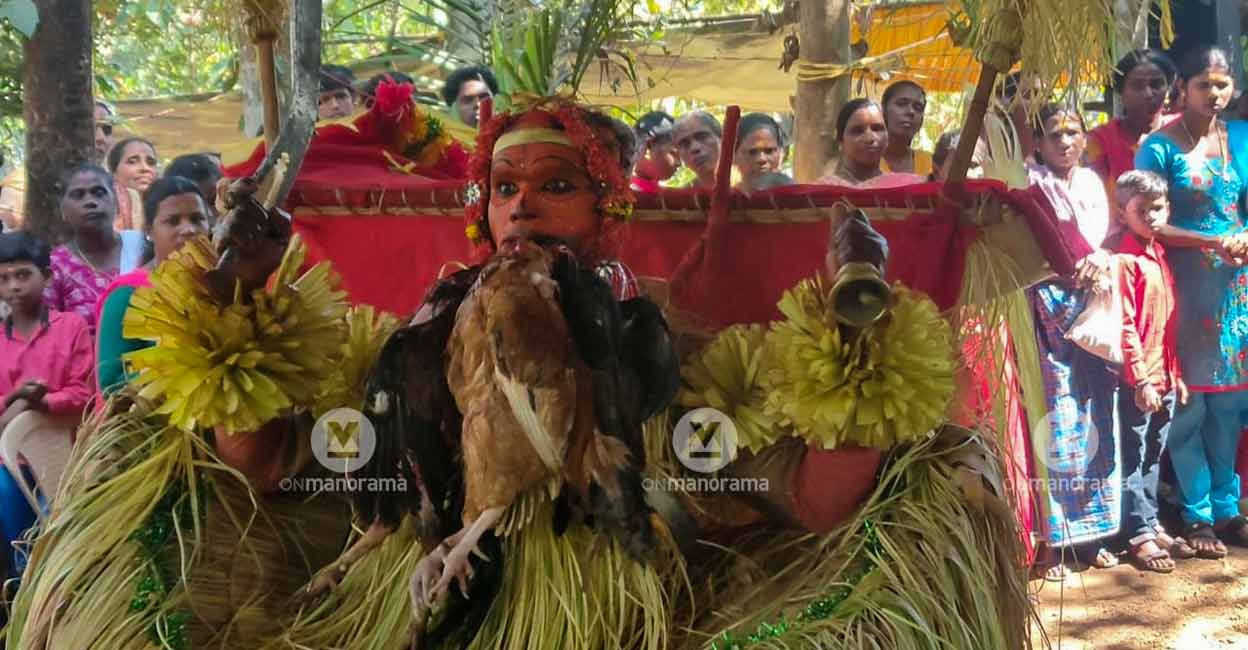 Like most men, he too offered the demigod a bottle of brandy. Many women came with bottles of fermented toddy.
Sati pours half a glass of toddy each for Panjurli and Kallurti.
They dip their fingers and taste the drink in acceptance. After several miscarriages, Sati's daughter gave birth to a child last year.
Behind Sati stood another woman who had only a tenner to offer. Panjurli takes her hand and says: "Your problems came like a mountain. But didn't I make them go like a mist!"
She nods her head in gratitude.
The number of devotees swells to 200 at the shrine.
Far from the hooting and ferocious god seen in the night, Panjurli is now patience and poetry personified. He has time for every devotee, from a nursery student to the aged granny. His comforting words are delivered in Tulu and Malayalam. "Alle (isn't it)," he will often say softly.
Bindu, a native of Neyyattinkara near Thiruvananthapuram, stood with her praying hands glued to each other for hours. Her husband Sudhakaran Nair has gone to the cooperative bank for last-minute negotiation. Their land has been attached and will be auctioned next week because they defaulted on loan repayment.
They went to the court and lost, wrote to the chief minister but did not get any reply. "Panjurli is our last hope. If you are coming here for the first time, tell your problems. They will be solved," she says.
As the last of the devotees return to their position, the chenda sets the tone for the final dance -– an act that turns the theyyam from divine poetry to the macabre.
The theyyam's support staff cut free the roosters from the headgear, plucking the feather off from the live bird.
Panjurli holds his sister Kallurti's hands and whirles. Later, he takes the rooster in his hands and slips into the night's avatar with wild cries.
As the drums reach a crescendo, Panjurli digs into the live bird with his teeth and chomps off a piece of flesh from the rooster.
Kallurti serves him tender coconut water between bites to quench his thirst. Panjurli is then handed over the next rooster. And the next. Panjurli takes all three roosters in his mouth and circles the shrine.
No devotee dares to propose to change this centuries-old grisly ritual fearing divine punishment.
"Raw meat of live rooster and fermented toddy is the food of Panjurli. If a devotee offers them in gratitude, Panjurli will have to eat them," says Thalakaran Venugopal (44), who heads the 23-member group called North Kerala Mavillan Theyyam Ritual Society.
Devotees often invoke Panjurli when they get into trouble, especially with the police and court, he says.
Panjurli is a protest against the ruling class which steals the land and rights of the poor. "That's why as protector, he wears Khaki inside," Venugopal says.
His cousin Babu Mani Mavilan (35) has been incarnating as Panjurli during theyyam season since he failed class 10 in 2007.
After 12 hours of energy-sapping ritual, the paint on his face is removed. There is no exhaustion on his face. "I have no control over what I say or do when I am a theyyam," says the soft-spoken Babu.
He says he never felt uncomfortable or had a tummy upset after eating live roosters, not even the first time when he was only 15 years.
"It is not me. It is Panjurli," he says.
His son is now in Class VI in a government-run residential school. "He plays chenda. I will have to initiate him into theyyam later," Babu says.
Thalakaran Venugopal says the next generation of their community is orally trained by the seniors.
Most of the ballads or 'thottam pattu' sung in praise of theyyams in Tulu Nadu can be traced back to the Vedas and the Puranas, the Hindu scriptures.
"But the ballads of Panjurli are not found in Mahabharata and Ramayana or other scriptures. So we cannot compose new ballads," he says.
The ballads are passed on orally from one generation to the next, he says.
These ballads in Tulu are not written even now. Prashob Kumar (27), who incarnates as several theyyams, says the songs are not written down because Tulu does not have a script. But there is no danger of losing the songs, says Prashob, who dropped out after Class XII.
"I learned the songs from my uncle (Venugopal). He learned from his uncle.
"As long as there is at least one devotee alive, these rituals and songs will be alive," says Prashob.