Who do young people care about, what are their favorite things and how do they embrace a new year?
The 2023 Spring Festival Web Gala broadcast online and on China Central Television on Saturday, tried to answer such questions through various performances intended to resonate with young people, the annual event's target audience. By Sunday, the web gala had received more than 900 million views. This year, the number of viewers aged 15 to 24 increased compared to last year, according to the show's producers.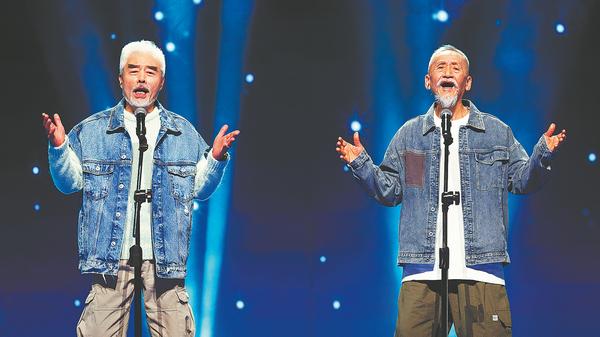 "Young people are main residents of the internet. They express themselves online and live in cyberspace. We wanted to present a web gala that showed real life in a vivid and vigorous way," says Tang Xiaoyan, chief producer of the web gala produced by CCTV.
Many grassroots people were invited to perform onstage. Popular video bloggers of food, travel, fashion, fitness and lifestyle also performed at the show's opening. A young electrician who loves to dance, a village teacher who speaks English with an interesting accent and a couple of farmers who are fond of dancing while doing farmwork were invited to perform along with popular singers in the show's section, Walk Gracefully Once.
According to Tang, the number of ordinary people invited to perform on the show is the largest this year since the annual gala made its debut in 2011.
"These ordinary young people and vloggers are representatives of cyberspace. Viewers can get a glimpse of young people's life," Tang adds.
Elements popular among the country's youth such as "China chic" (or guochao, featuring fancy designs mixed with elements from traditional culture), street dance, hip-hop music and technology were weaved into different segments of the program. For example, traditional art forms such as Peking Opera mixed with pop songs and technology of augmented reality were used to present dancers mimicking the work process of master calligrapher Wang Xizhi and his son, Wang Xianzhi, from the Eastern Jin Dynasty (317-420).
"Young people's focus changes every year. We try our best to present them through the galas. Sometimes, we also notice their special feelings," says Yu Miao, 33, co-producer of the gala.
He adds that a singing section of the program used the words, "let's dance tonight and leave troubles to tomorrow" to encourage the youth to relax a bit.
Yu's team was also made up of young people. They spent half a year on preparations for the year-end show. To better understand young people, they often went to campuses to talk with college students, carried out surveys and brainstormed with young people.
The theme of the gala has been "happy and new beginning" since the past three years. And, this year, with the end of the optimized COVID-19 control policies, the theme seemed to match many people's moods.
"We are all eager for a new beginning, see changes and expect a good life after the pandemic. The coming year is full of hope," says Yu.
Being young is not only about age, but also mindset. The gala aims to attract as many audience members as possible to promote such an attitude.
Last year, a choir of gray-haired singers, with an average age of 75, made up of the alumni of Tsinghua University went viral after they performed a song Adolescent at the web gala. Viewers marveled at their passion for life.
This year's gala saw two men, 70-year-old fashion icon and actor Zhang Shuangli and 80-year-old musician Peter Chan, singing a popular song accompanied by guitar. Wearing jeans, they dressed up in a young and chic way. They also shared their stories and secrets on how to keep a young mindset.
"We can see the two grandfathers' understanding of youth. That's what we want to be in the future," says Yan Yusi, general director of the program. Many of Yan's friends told her after seeing the show that they hoped they could be "as handsome and fashionable" as the two elderly performers.
Another segment of the program that received good feedback was the performance of a rock band, comprising 11 primary students from a village in a mountainous area in Guizhou province. It was the first time that the children were playing on a show that can attract millions of viewers. Many of the children came from poor families that make a living from farming. Accompanied by drum and bass, the rock band performed the song Live in the Sky to demonstrate a spirit of "never giving up".
Their teacher Gu Ya says the children didn't have access to musical instruments before going to school. They keep training their skills after finishing homework and farm work. Gu says some of these children would not become musicians in the future and may live an ordinary life considering their economic condition. But the web gala gave them "an unforgettable memory for life", adds Gu.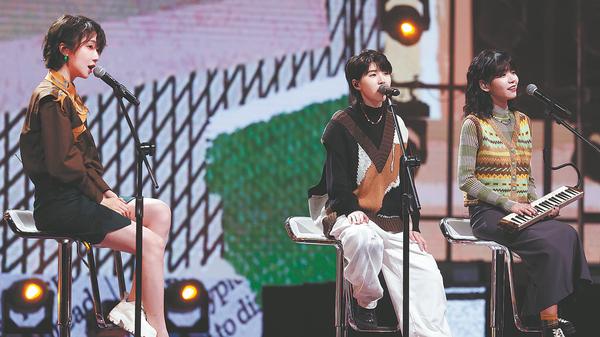 Yan, the director, says these children often asked her after rehearsal whether they had the chance to see the sea. She told them that there would be good things waiting for them in the future.
"I want our audience to see that no matter how hard life is, there's still hope and better things are waiting for us."
The gala also employed a lot of high technology. One such highlight was a song performed along with pop singers by three virtual avatars: Ling, considered "China's first virtual idol with guofeng (a kind of Chinese style using elements from traditional culture)";Angie, a virtual influencer, who has won followers with its beauty and easygoing personality; and Xiao C, CCTV's virtual employee.
This year, the use of such virtual people is popular among TV stations and online video platforms to draw the youth, a group that is regarded as the future residents of metaverse, where the physical world combines with the virtual.
The program, involving three virtual beings, posed great difficulties for Yan's team. However, in Yan's eye, they have to quickly be familiar with it because it's a future trend.
"We are always willing to embrace new technology and new things favored by the young," says she.
The web gala can be considered an online version of the Lunar New Year galas that Chinese families watch on TV at reunion dinners. Since the web gala's debut in 2011, it has been held on xiaonian, or "Little New Year" falling on the 23rd day of the 12th lunar month, one week before Lunar New Year. Different from the Spring Festival galas that aim to target audiences of all ages, the web gala is designed to win mostly young audiences.
Tang, the chief producer, says the whole team wanted to present a show that's different both from commercial and traditional galas.
"Always being creative and offering new things is what we pursue," she says.