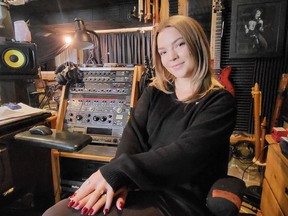 Article content
JAN MURPHY
Local Journalism Initiative Reporter
Article content
TYENDINAGA MOHAWK TERRITORY – Noelle Maracle is stumped when asked what she believes her super power is.
The 22-year-old rising music star from Tyendinaga Mohawk Territory stopped mid-interview when the question was posed to her.
After some thought, she mustered a couple of answers that the look on her face indicated even she felt weren't befitting the question.
"I can walk on my hands," she said through a smile that could light up a concert hall. "I can put people to sleep singing to them," she added, rifling through her thoughts.
"I love to cook and bake," she continued, the wheels still turning. "I am a very good baker, if I do say so myself. I can make some good cookies … and cakes and pies."
Perhaps it hasn't yet sunk in yet, or perhaps her subconscious won't concede to it for fear it will affect her incredible drive and determination, but a short sit-down with Maracle, who is known simply as noelle professionally, in her family's home along the shores of the Bay of Quinte and it's pretty evident that music is her super power.
Article content
Maracle, fresh from her first tour in support of Virginia to Vegas and Ria Mae, is on this day equal parts humble and proud as well as insightful and honest. She also boasts a raspy voice, the remnants of weeks of performing across eastern Canada, including a stop in Kingston.
And as her career trajectory is pointed squarely in the "up" position, noelle possesses a homegrown, humble charm that makes speaking to her as easy as listening to her amazing voice. She recently released her latest single, Daydreaming, but doesn't have to think long to when asked if she recalls her earliest music memory.
"I was sitting in the back of my dad's van," she said, adding that her mom and brothers were also in the vehicle. "I was in my little booster seat and I just remember singing."
Article content
She wasn't singing a Disney tune. Nor was it a children's favourite. Rather, still so young that she was using a booster seat, noelle had already written her first hit – at least among her family.
"My mom's favourite salad dressing at the time was balsamic vinaigrette," she recalled. She then serenaded her mother with a rendition that she repeated to her interviewer on this day. "I just remember singing: 'Balsamic vinegareeeeette,' " she sang with her melodically perfect pitch.
Linda, her mother, chimed in.
"That was her first song," her mother said, proudly.
Maracle came by her musical gifts honestly. Music has always been a huge part of her life. Her father, Jonathan, is a world renowned musician, instrument maker and boasts an impressive music studio in the family home. Mom, meanwhile, sings and plays piano, while her brothers play guitar and drums
Article content
respectively. Noelle's next-door neighbour and uncle, David R. Maracle, is also a world renowned musician, sculptor of stone and flute maker.
Being surrounded by so much musical influence was inspiring, noelle said.
"I think it made me pursuing a career in music a very natural thing because I was constantly surrounded by so many different genres of music," she said. "Growing up every Christmas, my mom had the whole Nat King Cole Christmas album playing, so I have a love for jazz. It has a big influence on my music today."
And her father's musical gifts can be found in noelle's own music today.
"My dad makes native wood flutes and powwow drums," she said. "I think the soulfulness and the beauty and the airiness of the native wind flute music also has an impact on my songs today because I love that high-airy emotional feel in my songs. The powwow music that I grew up listening to, it kind of pumps me up.
Article content
"And Dad had a recording studio in the basement, which I grew up recording YouTube covers in. That was obviously super helpful and it made me become really comfortable in recording studios. Now, whenever I'm at a new random studio in Toronto, I just feel at home when I'm there because I spent so much time in the studio downstairs."
The constant exposure to music certainly influenced Maracle, but along the way, she developed her own habits and practices that have helped catapult her into the business, which is a notoriously tough career in which to find success. One of noelle's strongest qualities is hard work.
"Being confident for me going into work situations in Toronto and songwriting sessions is being super prepared," she said. "I don't go into a session without an idea of what I want to write about or without a melody or a lyric. In my bedroom at night, when I'm really inspired, I will write a chunk of song. I'll write the first verse or I'll write part of the chorus and then I'll voice memo that and bring it to a session in Toronto with another writer and a producer."
Article content
Coming in prepared helps avoid slow starts to sessions, noelle said.
"It was really hard at first to be able to be creative at 11 a.m. when the session's starting because creativity comes in waves. Now I have those little creative chunks and I can be like 'Here, here's the start.' And it usually gets the creative juices flowing."
Maracle's creative process is not unlike the beautiful songs she produces: sometimes they start with a melody, other times the powerful lyrics captivate while other times still, her angelic voice mesmerizes. In other words, it's never the same process when songwriting or creating.
"It's always different," she said. "Sometimes I find I'll say a word and I'll be like, 'Wait, that's a great song title' and then I'll write a song based off of that word as the title. Other times, the melody will come to me first. Other times, I'll see a quote and I'll be like, 'Oh, I want to write about that lyric,' so it's different for me all the time."
Article content
The creative "how" may vary, but the creative "when" sure doesn't. It's nonstop.
"I have literally 120 songs finished and 50 of them I love," she said, sitting only a flight of stairs and a few steps away from her creative den, her bedroom at mom and dad's. "I'm going to keep writing because might as well 'beat those' and release whatever the best song is."
Of course, while noelle has written her own story and has earned everything she's achieved to date, she happily reflected on some key moments that have influenced her journey.
"The first one was probably when I had a song go viral on YouTube," she said. "I was nine years old and I covered Hurt by Christina Aguilera and it got five million views. That was the moment when I was like, 'Wait a minute, this could actually be a real career for me,' " she recalled, pinpointing that as the moment she knew she wanted to pursue music as her career.
Article content
Another milestone came courtesy of high school heartbreak, which prompted noelle to mend her broken heart through songwriting.
"I had never really written songs before," she said, adding that the writing proved therapeutic. "I sat down at the piano every day after school and I was just writing songs."
Along with writing her own material, she would perform acoustic covers of songs that held meaning to her. One such cover was Selfish by Virginia to Vegas, which she covered and posted to social media.
"I tagged (Virginia to Vegas) in it and I posted it," she recalled. "I was not really thinking anything of it, but he happened to see it and he messaged me."
The Juno-nominated Derik Baker, a.k.a. Virginia to Vegas, heard noelle's cover and reached out to tell her that he thought she had an amazing voice and offered to introduce her to his record label.
Article content
"I was like 'What? That's so crazy,' " she recalled. He said 'Your voice is so beautiful, what are your plans for music?' "
Still in high school at the time, noelle made the intros with the producers and writers and eventually signed with signed with WAX Records, a Canadian-based label whose roster has boasted releases from the likes of Bulow, Virginia to Vegas and Shawn Desman, to name some.
After signing the deal, the global COVID-19 pandemic put the world on hold for a couple of years, but eventually, noelle released some singles and, most recently, opened for Virginia to Vegas and Ria Mae on their Rock Paper Scissors tour, which she called "the biggest milestone so far" in her career.
"It was such a cool experience."
Article content
Cool, but also eye opening.
"It was an adjustment for sure, living out of a suitcase for a month," noelle said of the challenges of being on the road. "It was so much fun on the tour, with just the best human beings that I could have possibly been surrounded by, the whole crew. I couldn't have asked for a better first tour in that regard, but it was definitely an adjustment getting used to the lack of sleep and giving out so much energy every single day."
The early mornings, the long drives between cities, sound checks, show prep and then the big show, day in and day out were all firsts for noelle.
"For me, I did the opening slot and then I couldn't really rest because Derik headlined every night for the most part and he called me back up to sing our duet so I had to (keep my voice) prepared," she said.
Article content
Maracle recounted a typical night on the tour. After getting dressed, she'd open the show, join Virginia to Vegas during his set, participate in a post-show meet and greet, then it was either back to the hotel or off to meet with important industry people before grabbing as much sleep as the remaining time allowed. Then, repeat the cycle.
"It's a crazy schedule," she said, adding that the experience only solidified her resolve.
"I saw so much growth within myself from the first show to the last show, "she said. "I had only ever done one show before the tour started, so I was really, really new to the performing thing. Both (Derik and Ria) have been artists for like 10 years, so they're so used to it. The first show in Hamilton, it was good. It went really well, but now I'm just so much more comfortable on stage and I can chat with the audience and I move around and everything so much more. I can't wait to see where I'm at a year from now."
Article content
Maracle knows that a year from now would not have been possible if not for her very supportive and loving family.
"I'm so thankful to have had the upbringing that I had," she said. "My family is very artsy. You hear about people who have to fight their parents to not do the traditional route so that they can pursue their dream. With my family, it was always 'Pursue your dream.' I'm so thankful to have had that support. My mom learned the recording software for me and helped me film all my YouTube videos and she's just always been so involved."
And of course her dad, with his music studio, was ever the teacher and mentor. Now, however, noelle said, the teacher is becoming the student.
"I help him write songs now for his albums, which is so so funny," she said.
Article content
"I'm so thankful for my family."
Maracle is proudly Indigenous and possesses a deep love for her Mohawk Indigenous culture and music. She hopes, however, to be an inspiration to anyone chasing their dreams.
"Obviously I love powwow music, I love the native wind flute, I love all of that stuff, but I also think you don't have to do the stereotypical thing. I'm Indigenous. I'm proud to be Indigenous. But I also want to be a pop star, so I think that could be very inspiring for kids. You can go be in the NHL, follow your dreams and do whatever you want to do, but be proud of who you are and where you come from. I just see it as we're all humans, let's all just love each other. It doesn't matter who we are or where we come from."
With her single, Daydreaming released and first tour under her belt, the sky really is the limit for the ever-smiling noelle.
Article content
"I'm leaving later today," she said. "I've got some meetings with my label to discuss what's next and then we're doing like a little Christmas party just to celebrate all the stuff we did this year and then I have a writing session the next day."
The new year is akin to a new song for noelle: full of hope, possibility and creativity.
"I plan to possibly go to Sweden in the new year, to Nashville on songwriting trips and working with some new people," she said, adding that she plans to keep writing music as often as she can, not only for herself, but for other artists as well. "There's a second-half of (the Virginia to Vegas) tour that goes across the West Coast. It's not confirmed yet that I'm opening, but fingers crossed I get to open for that," she added. "I also have two new singles that the label wants to wants to drop in the new year … so many exciting things coming."
Article content
In spite of the recent success, noelle admitted that she still has to pinch herself.
"It doesn't feel like it's real yet," she said, following the release of her latest single, which is tracking higher each week on Canadian radio, her first tour and having previously been named a Bell Future Star.
But noelle is resolved to spend a little more time taking in her accomplishments in a bid to make it feel more real.
"I need to do that more because I look so far toward the end goal that I don't know if I'm appreciating the little things in between enough, which I think I really need to do because it's exciting. I just don't really realize how exciting it is because I'm just so focused on the be-all-and-all thing, but so many little successes add up to the big success at the end."
Article content
All those little successes are also strengthening her aforementioned super power: music.
"I will tell you, if I could have any, I would like to be able to teleport," noelle added with a laugh.
Those would be great for cutting down those tour travel times.
Or maybe a great song title or lyric…
Jan Murphy is a Local Journalism Initiative reporter who works out of the Belleville Intelligencer. The Local Journalism Initiative is funded by the Government of Canada
The first noelle
Who: Singer/songwriter Noelle Maracle.
What: Fresh off the first half of a tour with Virginia to Vegas and Ria Mae, her first radio single Daydreaming, is charting across Canada.
First CD she ever bought: "Carrie Underwood. I don't remember what the album was called, but I loved Carrie Underwood when I was little, and I always used to like trying to growl like she did in her song Last Name: "I don't even know his last name. I sang that song for years."
Article content
Musical influences: "I've always really been influenced by Ariana Grande. I watched her show Victorious. She just has, I think, one of the best voices in pop right now. I definitely grew up singing all of her songs, and I think that kind of shows through in my voice. But I also love Bruno Mars. I love Lewis Capaldi. He's more of a new a new artist, but I think his he has like the best male voice in the pop world right now. I also love Daniel Caesar and Sabrina Claudio, and I think Dua Lipa is really cool. I love how she's bringing
back like the disco funk and making that current again. Bebe Rexha's got a crazy voice. Billie Eilish, obviously her voice is just insane, too."
Passing time on the road: "I video chat with my mom all the time."
Article content
On working with a young Sabrina Carpenter: "It was so much fun working with Sabrina Carpenter. We actually had the same vocal coach growing up. He lives in Paris, France, and we did vocal opera lessons on Skype. We knew each other through that. And then she was doing a concert in Toronto at Budweiser Stage and she had me come out and it was so much fun. We just clicked like really good friends. She's incredible.
The Biebs: Noelle presented Justin Bieber with his first platinum award when she was nine years old after she'd won the "Virtual Next Star" online singing competition that year. As part of her price, she presented the now Canadian icon Bieber with his first platinum award during the finale show at Canada's Wonderland.