MINNEAPOLIS — New Mexico has the "
." Tennessee has a
. In Minnesota, we have
.
The most
in the land of 10,000 lakes, at 3359 Tyler St. NE in Minneapolis, is a one-bedroom with an octagonal studio, a window-covered solarium and a skylight in the rock-encrusted shower. And, it's so much more.
The Wolf House, named for its concrete wolf statues and its namesake-painted garage, is a performance space and a living work of art, boasting wall-to-ceiling murals, a stone trail embedded into the floor, hundreds of pebbles glued on nearly every surface and a Mason jar window filled with tiny trinkets and toys.
When it's just an Airbnb, it feels "less full, less inspiring," said Annette Schiebout, Minnesota artist and Wolf House owner, but the performance aspect of the space nurtures a dynamic energy.
Schiebout hosts artist residencies, concerts, poetry readings, a sound installation and a dance troupe. "A lot of dreamers come to me with the idea and walk through the house and figure it out," she said.
Concerts are intimate, limited to about 40 in the eight-sided studio. For each event, "We do this collective howl," she added.
Duluth-born musician Venus DeMars is among the carousel of folks to perform at the Wolf House. As a multidisciplinary artist, muralist and lead of Venus DeMars and All the Pretty Horses, DeMars lauded the effort it took to create the house's "ethereal nature" and wall-to-wall ambiance.
The space "speaks well for Minneapolis, but Minnesota in general," DeMars said. "We're much more open and experimental than I think the country sometimes gives us credit for."
While Schiebout has updated the Wolf House and revolutionized its use, she aims to keep the vibe and look left by its original owner. "I feel so lucky to maintain what she dreamt and created," she said.
Stone by stone, Minnesota native Lauri Svedberg painstakingly brought the Wolf House into existence by painting murals on its walls and ceilings and gluing rocks and shells into the floors, stairs and cabinet doors.
Svedberg said she has always focused on "creating environments."
Since reading "The Boxcar Children" series as a kid, she was enamored with personalizing whatever space was hers, which as a child meant painting fake stained-glass windows in her bedroom.
"We have so little control over so much in our lives that I think being able to fashion and control the space that you are in is really helpful in making your way," she said.
In 1980, Svedberg bought the northeast Minneapolis house for $40,000. She eventually had the porch torn off and replaced with a solarium.
After a 1996 fire caused significant damage, and after a divorce two years later, Svedberg transformed her interior motifs replicating outer space, the northwoods and a bordello into a unified theme.
Her studio and her home became a landmark in the neighborhood mainly because of the concrete wolf sculptures in the yard and the painted wolf on the garage door. (Svedberg also collected many, many wolfy things, including large dogs.)
She sold her retail works from there, and opened her home to Art-A-Whirl participants.
"Anybody who is typical would not find it easy to live in what I made, and certainly not with kids," Svedberg said. "Because I was solo, I was able to pretty much ignore some of the things that might drive other people crazy."
Due to health issues, Svedberg relocated to warmer climes, where she has kept up her nature to create environments. (She painted "every square inch" of her Palm Springs, California, home, inside and out — in bright tones, a different palette than the Wolf House's "broody northwoodsy coziness.")
Svedberg was thrilled when she met Schiebout after its purchase in 2015.
"The fact that Annette has opened it up to the public and creative types as a retreat, performance space, funky rental, all of those things make me so happy. It means more to me that it is being enjoyed by lots of different people than if some individual had bought it and lived there alone," Svedberg said.
"I can hardly believe the trajectory of this. I feel really lucky that this is a little bit of a legacy."
Schiebout had lived in the neighborhood a decade when she saw a listing for the Wolf House.
"I went back for a second showing, fighting the crowds of people after the listing went viral, and made an offer," she wrote on her
.
After closing in 2015, she noticed plastic serving trays fastened to the solarium windows. "The first night I stayed here as cars drove by at night, these are like prisms, and it shoots lights all across the wall and I understood why she did this. It's pretty magical," Schiebout recalled.
In 2017, she tore down the wall between the kitchen and the dining room. She updated the sinks, counters and stove and installed a dishwasher, a soaking tub, a second bathroom and a walk-in closet.
The kitchen archway was the first piece of the house she claimed as her own, adding her favorite rocks along the border. "I've done my best to create an introvert's paradise," she said.
An artist and musician herself, Schiebout has never lived in the Wolf House, but she ventures here for breaks and to refuel. She's a "binge writer," and if she's not churning out words in the solarium, she's standing in a tucked-away corner behind the staircase bookshelf.
Minnesota singer-songwriter Jeremy Messersmith spends a few weeks a year at the Wolf House, where he's written more than one-third of his songs over the past few years. The solarium may as well be "a conduit from the muse herself," he said.
And as a performance space, an audience's enthusiasm being in the intimate 40-person setting transfers to the music. There's an element of "danger" and "sacredness" in the Wolf House, he said.
"It feels like I'm on the edge of something — of what's real and what's a dream. … It's a wonderful place to be if you want to write or create," Messersmith said.
For more information, check out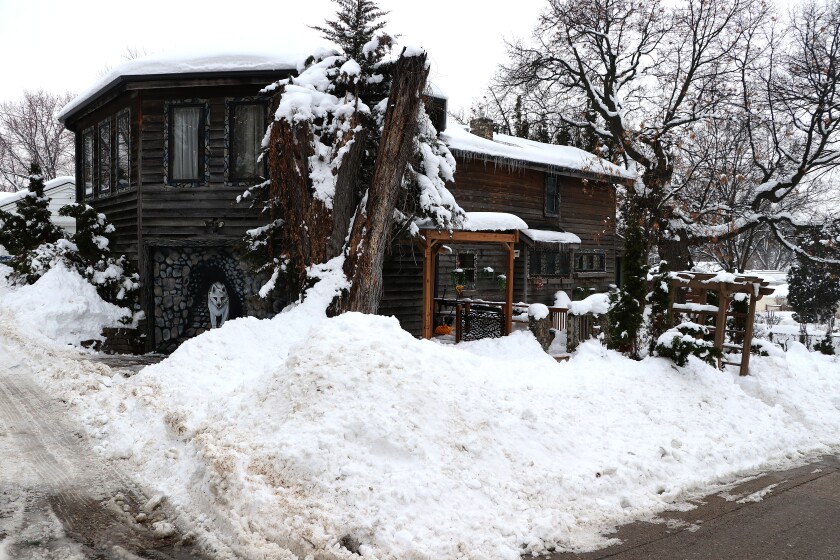 window.fbAsyncInit = function() { FB.init({
appId : '880572159243904',
xfbml : true, version : 'v2.9' }); };
(function(d, s, id){ var js, fjs = d.getElementsByTagName(s)[0]; if (d.getElementById(id)) {return;} js = d.createElement(s); js.id = id; js.src = "https://connect.facebook.net/en_US/sdk.js"; fjs.parentNode.insertBefore(js, fjs); }(document, 'script', 'facebook-jssdk'));



Source link