Nagaland's annual Hornbill festival grabbed national attention last month, when a young Naga woman belted the Indian national anthem on her electric guitar. And the rest, as they say, was social media history.
With oozing confidence and a warm smile, 20-year-old Imnainla Jamir missed no notes while delivering one of the most unusual musical crossovers. The fusion of a Western musical instrument with one of the most intrinsic markers of Indian identity – the national anthem – during the opening ceremony of the 10-day cultural extravaganza on 1 December seems to have rightfully come from the heart of a festival where music forms a core pillar.
"The reactions have been overwhelming. I have received appreciation not only in person but also over different social media platforms," the young guitarist told ThePrint.
This clip is proof of just how Incredible India is. The Incredible diversity of co-existing cultures. The #HornbillFestival is so unique that it can only go from strength to strength… pic.twitter.com/BQ5AD1C71g

— anand mahindra (@anandmahindra) December 4, 2022
Simply awesome display of talent at #HornbillFestival2022 💙

Guitarist: Miss Imnainla Jamir
VC: @TafmaNagaland pic.twitter.com/YEpDDCldyA

— GK Zhimomi (@gkzhimomi) December 2, 2022
Jamir came up with her unique rendition after the Nagaland government—which has been hosting the Hornbill festival since 2000— asked her to play the national anthem at the event. And although it was her first time, she said it didn't take her much time "to master the piece." She was "nervous" about the reaction, though. Now that her concerns have been laid to rest, Jamir says she "would love to cover other patriotic songs".
---
Also read:
---
Fusion, collaboration, fight for fame
After Alobo Naga and the Tetseo Sisters, Jamir is the latest entrant to the list of artistes from Nagaland who came into the mainstream media limelight.
Jamir is not just a guitarist: She is also a singer pursuing a solo career while playing with The Fantastic Company (TFC), a local band, and has recently covered Pyaar Ke Pal (1999), the debut solo album of the late singer KK. She even has a few collaborations in her kitty and is looking forward to releasing her first music video—and other original compositions—on streaming platforms soon.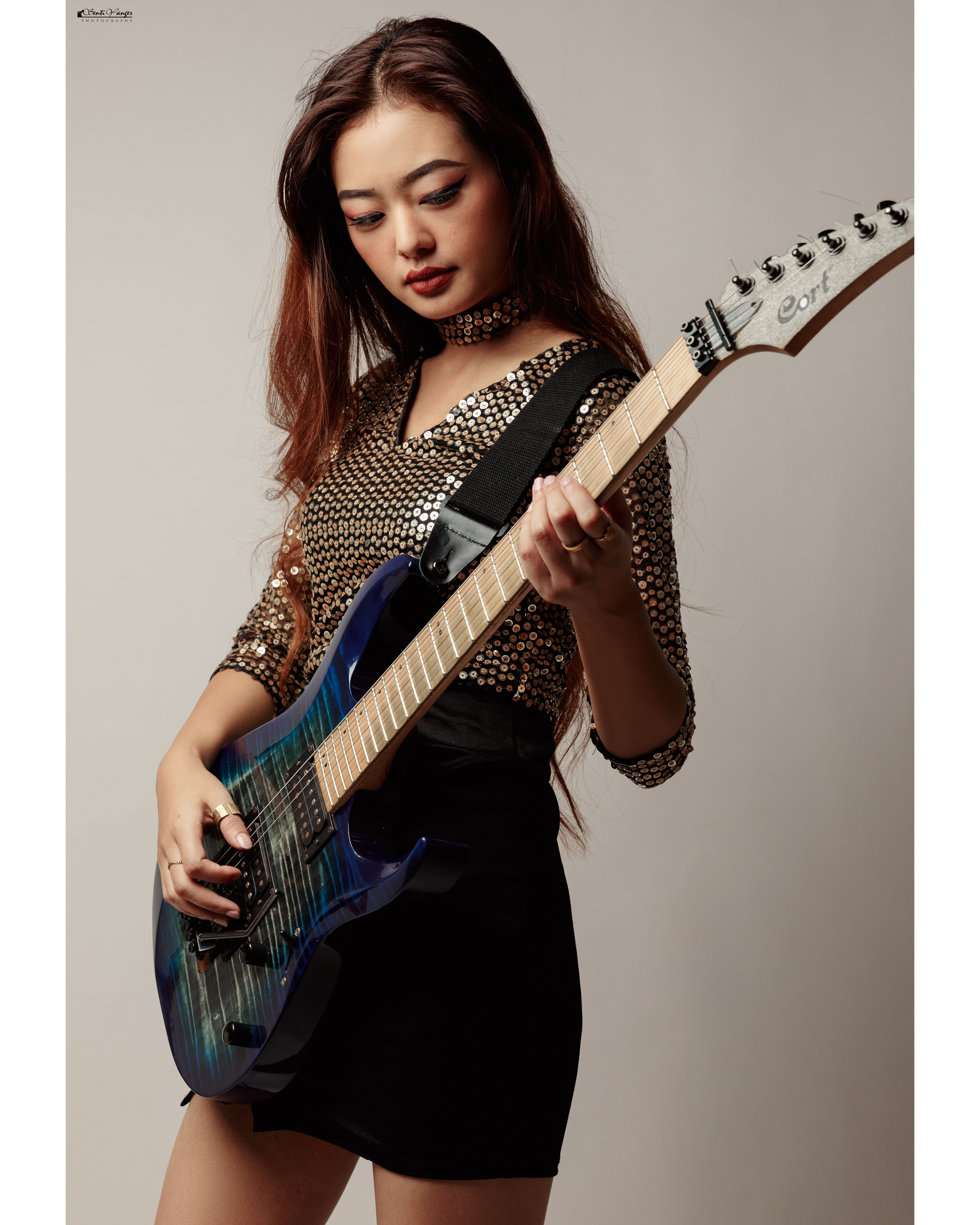 While she enjoys her time under the sun, difficult questions linger: What avenues does she have outside of Kohima now? And how challenging is it for a musician from the Northeast to make it big in India?
One of Nagaland's musical treasures, Alobo Naga, who paved the way for a generation of young Northeastern musicians by winning the 'Best Indian Act' at MTV's 2012 European Music Awards, has some answers. 
"We believed (not sure if it's a myth or the truth) that people from that side of India got more publicity and more promotion. Maybe they had more accessibility to the media. The artiste from this side was always neglected. But now, because of the Internet or maybe the Look East policy, things are getting better," he says.
Alobo notes that things have "greatly improved" for Naga musicians compared to when he began his career in the early 2010s. He says that much of it is due to the rapid advent of social media and streaming platforms. Jamir agrees. 
"Today, musicians, no matter where they are from, have the opportunity to make it big." 
Nagaland now boasts an eclectic range of artistes like concept pianist Nise Meruno, soloist Abdon Mech, and bands like Trance Effect and Polar Lights on the national stage.
The state is seeing old shackles of obsession with government jobs and the compulsion to keep music limited to passion instead of career fading away.
"With a few of us, we tried to make it—even if in a small way—upward, leading to the younger generation dreaming big. And yes, no doubt, there are many dreams which are shattered, but people have not lost hope yet," says Alobo.
---
Also read:
---
What the future holds for Jamir
For now, Jamir has her priorities sorted, and her head firmly on her shoulder. "Right now, my focus is my music education. My journey has just begun, and I am most definite that the right time will come for a pan-India performance," she says.
The young musician also says that artistes need "fusion, not dilution" to grow in their respective careers.
"In a flat word, collaborations and fusion of ideas with one's personal style is key to making performances more exciting and engaging with a wider audience," she says.
Jamir has a deep sense of belonging to her state. "As a musician from Nagaland, I carry with myself an opportunity as well as a responsibility to take the name of my state wherever I perform," she says.
This sense of gratitude probably stems from the support the Nagaland government has extended to its young talent.
"I'm at an initial stage of my career, and I'm glad to say that I am being helped and backed by organisations such as Task Force for Music and Arts (TaFMA), which is working very hard to uplift Nagaland music and art platforms and trying to push forward many other Naga artistes and musicians as well," Jamir says.
TaFMA has been set up under the vision of Nagaland Chief Minister Neiphiu Rio.
---
Also read:
---
Starting young 
Jamir says her journey started in her hometown of Mokokchung, which she describes as a place where a vast majority is musically talented.
"I recall going to small shows and concerts and watching our senior musicians perform… And growing up in such a town, I was always inspired. As a kid, I would admire how they played, their performance, and it triggered me more to be a musician myself," she recalled.
Jamir's love affair with the electric guitar started when she was just 12 years old.
"I was always interested and influenced by seeing other people play the guitar. But I never really invested much time in it. It was only when I turned 14 that I started to develop a keen interest in what I was doing," she says.
Time moved swiftly for the Mokokchung-born musician. At 16, she made her solo stage debut at the 2018 Hornbill festival in Dimapur, where she covered a track by musician Stel Andre. She also performed internationally with TFC in Thailand in July 2022.
At 20, Jamir is a full-time musician taking classes at the Symphony Academy of Music in Kohima while balancing a graduation course.
She credits her brother and her academy mentor as the forces behind her growth as an artiste.
"They guide me and push me through at times when I fall behind. It helps me to be more confident and work harder," she says.
---
Also read: Identity, music & Bhupen Hazarika: The man who united Assam, talked inclusivity
---
Not caged by genres
A peek into her Instagram shows an immaculately curated account filled with guitar covers and snaps of her on stage in fashionable attire often seen on Naga musicians.
These days Jamir usually performs old rock, classics and melodic ballads. "Sometimes I experiment with different genres in my playing style," she says.
This fluidity reflects in how she talks about her favourite music. "To be honest, I have no favourites. I suppose I like listening to songs regardless of a definite demarcation of the genre," she discloses. Jamir, who was next seen at the Wahyum Festival of Arts and Music in Manipur's Imphal, says that her setlist depends on "what the event is about."
Jamir will next perform at South Sky in Mumbai's Jio World Drive on 13 January, on a night helmed by famed band Parikrama and guest artistes like Koco and Khalid Ahamed.
(Edited by Zoya Bhatti)