KAYZO builds on his massive album, NEW BREED, by dropping in three smashing VIPs that breathe new life into the original versions.
---
Multi-dimensional artist KAYZO has taken the electronic music scene for a wild ride over the years while creating a sound that's distinctively his. Utilizing elements of rock, heavy metal, and screamo in his bass-fueled releases while also touching down in the realm of hard dance from time to time – it's impossible not to fall in love with his genre-bending style if you love hard-hitting sounds.
Last year, KAYZO began the next chapter of his career with the release of his third album, NEW BREED, which saw him deliver 20 tunes for the masses to consume. This included standouts such as "The Sickness" with GHØSTKID, "MEET YOU IN THE SOUND" with PhaseOne and Aaron Pauley, and "BURN IT DOWN" with ATLiens and ADAM ON EARTH, among others. Now, in the first weeks of 2023, he's released the Deluxe VIP edition of the album to offer three new takes on tracks that dominated the minds of listeners.
The first VIP is a fresh cut of KAYZO's tune with Kamiyada+, "NEWSFLASH," which kicks off in a similar manner to the original before adding in an aggressive drop that will leave bass lovers losing their minds. "MOONLIGHT" with Siiickbrain is the second VIP and sees KAYZO keep the heavy metal and screamo influences while layering in more drum and bass elements to make it stand tall. And closing out NEW BREED (DELUXE VIP) is his track with DE'WAYNE and CRAY, "LOVE ME HATE ME," which transforms the second drop into one that's filled with even more energy than the original to keep you bouncing up and down until its final moments.
Be sure to stream NEW BREED (DELUXE VIP) on your preferred streaming platform, stay tuned for more from KAYZO in the coming months, and let us know your thoughts on the three new VIPs on Twitter.
Stream KAYZO – NEW BREED (DELUXE VIP) on Spotify:
---
KAYZO – NEW BREED (DELUXE VIP) – Tracklist:
UNDERGROUND
CYBER DETHHH

THE SICKNESS (featuring GHØSTKID)
WAR (featuring OST)
MEET YOU IN THE SOUND (featuring PhaseOne, Aaron Pauley)

GATEWAY (featuring Jiqui)
DEAD AWAKE (featuring Banshee)
BURN IT DOWN (featuring ATLiens, ADAM ON EARTH)

NEWS FLASH (featuring Kamiyada+)
MOONLIGHT (featuring Siiickbrain)
POSER (featuring conner)

LOVE ME HATE ME (featuring DE'WAYNE, CRAY)
BOTTLE OF RAIN (featuring POORSTACY)
NEW BREED

SHT SHOW
LOST MY WAY
CROWN OF THORNS (featuring Blosso, BVLVNCE)

WASTE AWAY (featuring Kala)
SAVE ME (featuring SpaceMan Zack)
MAKE U MISS ME (featuring Seon)

NEWS FLASH – VIP (featuring Kamiyada+)
MOONLIGHT – VIP (featuring Siiickbrain)
LOVE ME HATE ME – VIP (featuring DE'WAYNE, CRAY)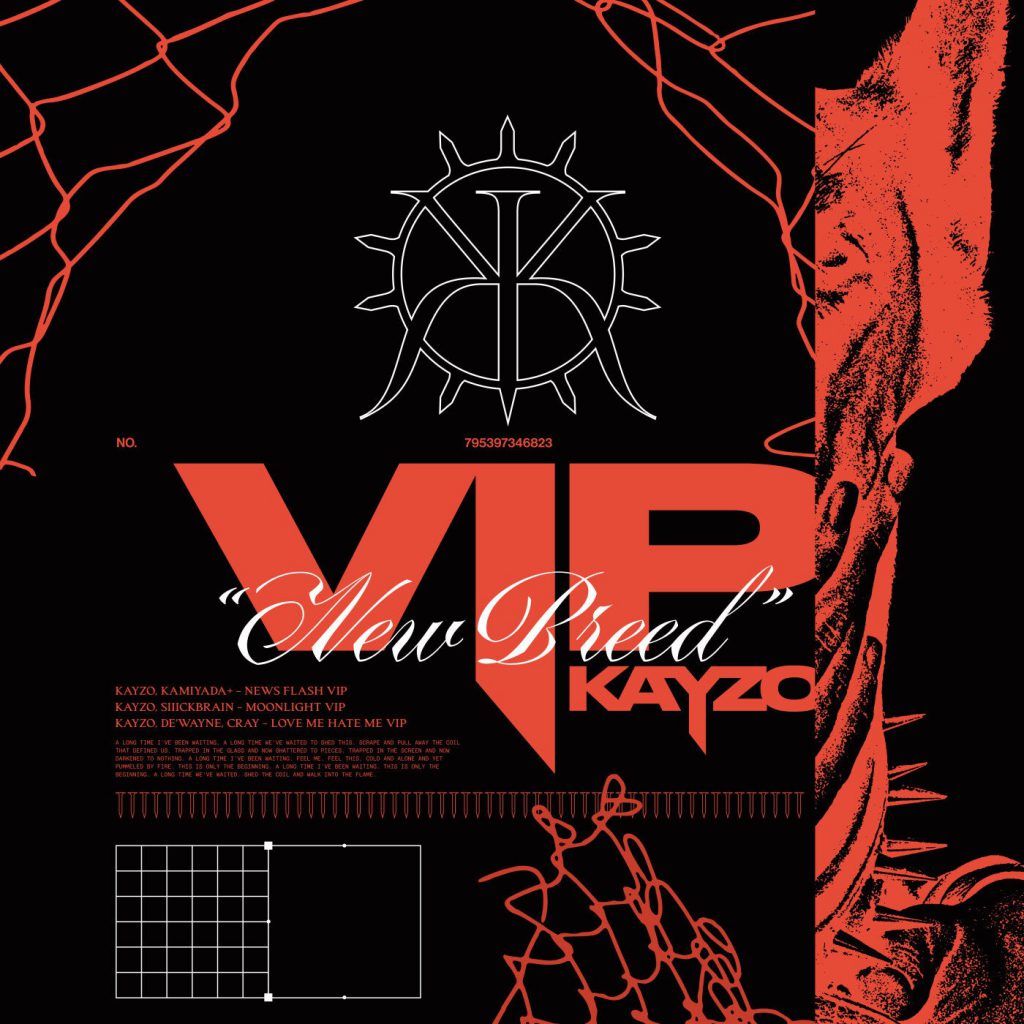 ---
Follow KAYZO:
Website | Facebook | Twitter | Instagram | SoundCloud | YouTube