John Bonham found fame drumming for Led Zeppelin, which makes sense. His precision, power, and impactful playing were so crucial to the band that they split up in 1980 rather than attempt to soldier on after his death. Bonham had a vision for his drum playing years before joining Led Zeppelin, and Jimmy Page was the perfect guitarist to make it happen.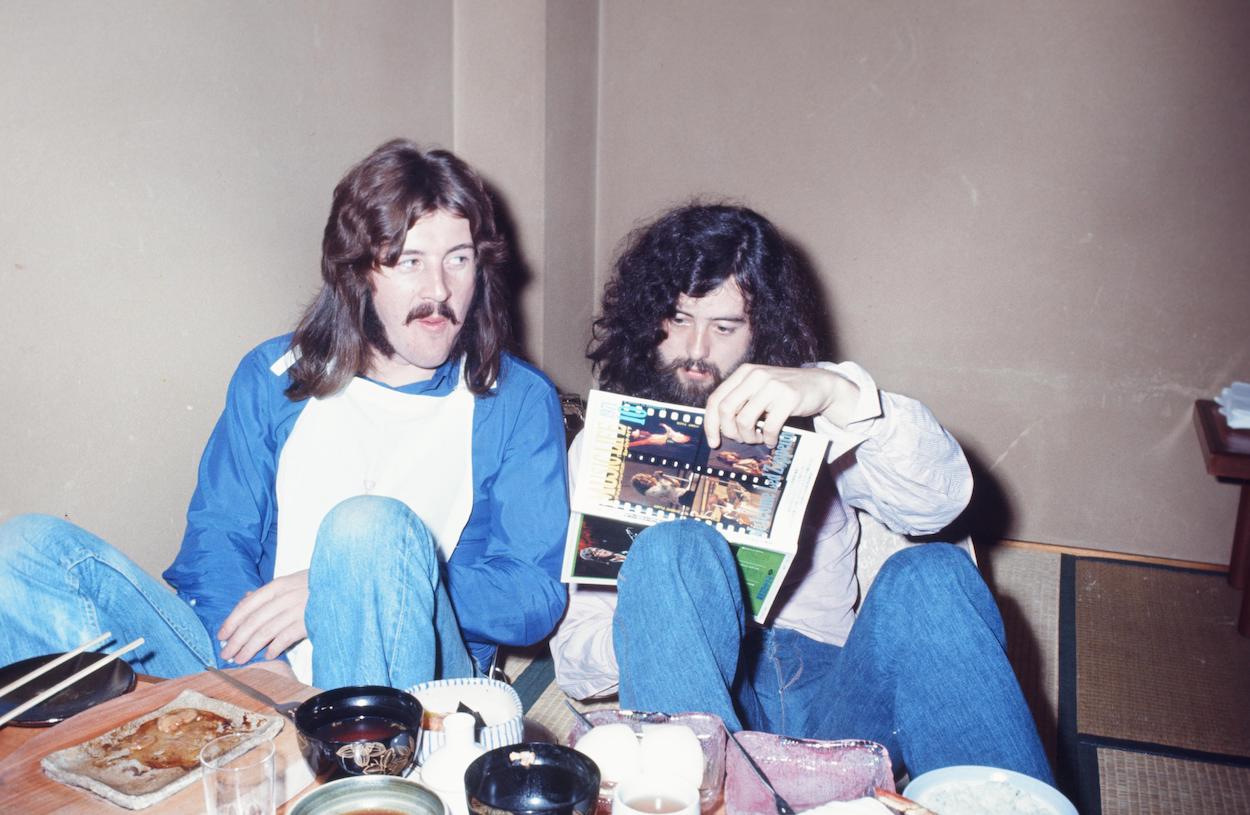 John Bonham had a simple vision for his drumming — make the drums a lead instrument
Bonham seemed destined to be a groundbreaking drummer from a young age. Before he had a real kit to play, he fashioned drum sets out of pots and pans. Music was prevalent in the Bonham house, and he grew up idolizing jazz drummers such as Gene Krupa and Buddy Rich. Still, he was mesmerized by one early rock 'n' roll song that informed the style he brought to Led Zeppelin.
Zep brought his skilled timekeeping to the masses, but Bonham formed his drumming philosophy years earlier. As C.M. Kushins writes in Beast, the burgeoning Birmingham, England, drummer's idea was to put the drums on equal footing with the lead guitar:
"John already had it in mind to neither dominate the guitarist nor allow the guitarist to overpower him. Rather, John's vision was to make the drums a secondary lead, circumventing the preconceived notion that the drum was just another part of the rhythm section, a mere timekeeper."

Beast author C.M. Kushins relays John Bonham's vision for his drum sound
Bonham's hard-hitting style ensured he'd be noticed for his playing. Led Zeppelin founder Page was the perfect guitarist to bring Bonham's vision to life.
Led Zeppelin founder Jimmy Page was the perfect guitarist to make Bonham's vision a reality
Page and Bonham didn't meet until Led Zeppelin Robert Plant singer recommended Bonzo for the empty drum chair. The timekeeper already had a vision for making drums more a lead instrument, and Page was the perfect guitarist to make it a reality.
He was a guitar virtuoso — first as a session player and then in the Yardbirds — but Page wanted to share the spotlight in Led Zeppelin. He said it was the key to the first album. Led Zeppelin I was meant to showcase his guitar skills, but not at the expense of the other members. 
Bonham couldn't have asked for a more perfect guitarist to make his drumming vision a reality. 
Bonham and Page share the spotlight within the first few seconds of Led Zeppelin I. Bonzo hits his snare drum at the same time Page plays the downstrokes on his guitar on the "Good Times Bad Times" intro; he plays along with the lead guitar instead of behind or under it. Bonham's revolutionary rapid-fire bass drum work is evident moments later. Page's plan for Led Zeppelin I was to grab the listener's attention immediately. He made it happen because he bought into Bonham's vision to make the drums a secondary lead instrument. 
Bonham matches Page's strumming cadence during the guitarist's Spanish-style playing on "Babe I'm Gonna Leave You." Bonham nearly steals the spotlight with his drumming on "Dazed and Confused" and "You Shook Me," which are two of Page's best guitar solos from his Led Zeppelin era.
His goal was to make his drums a secondary lead instrument next to the guitar. In Page, Bonham found the perfect guitarist to make that vision a reality.
Bonzo changed drumming in other ways
Putting the drums on equal footing with the guitar was Bonham's vision. He made it happen with Page's help, but that wasn't the first or only way he changed drumming.
When he was still up and coming, Bonham revolutionized drum kits when he used a bike chain to fire his kick drum pedal. Later, he used acrylic sets and the biggest bass drum possible to maximize his forceful sound. 
In Jimmy Page, John Bonham found the perfect guitarist to help him make his drumming vision a reality. Led Zeppelin's hard-hitting music, which remains some of the most popular ever, was the perfect vehicle to bring it to the masses.
For more on the entertainment world and exclusive interviews, subscribe to Showbiz Cheat Sheet's YouTube channel.