"Four strong winds that blow lonely, seven seas that run high/All those things that don't change come what may … " It's been called Canada's unofficial national anthem, and Four Strong Winds was the signature tune of its writer, Ian Tyson, who has died aged 89. He sang it immediately after O Canada – the official anthem – at the opening of the 1988 Winter Olympics in Calgary, and in 2005 Radio Canada listeners voted it the greatest Canadian song, ahead of those by oni Mitchell, Neil Young and Leonard Cohen.
Sung in Tyson's warm tenor voice, Four Strong Winds draws on its Canadian setting. It plays with the bittersweet loneliness of lovers separated by that setting and the different pulls of life, which reflects Tyson's own life and career, a peripatetic trip through folk, folk-rock and country music. The singer tries to persuade his distant love to join him in Alberta, while despairing that in winter there's "nothing much for you to do, and those winds sure do blow cold way up there."
Tyson was born in Victoria and raised in Duncan, British Columbia, to parents who had emigrated from Britain. His father, George, wound up as an insurance salesman, but was an avid polo player, and Ian rode from a young age. He was drawn to the rodeo, competing in amateur events until he broke his ankle badly in a fall at the Dog Pound Rodeo in Alberta. While recovering, he taught himself to play the guitar; his mother, Margaret (nee Campbell), encouraged him, and persuaded him to pursue his artistic talent. He graduated from the Vancouver School of Art in 1958 and moved to Toronto, where he worked in commercial art and began playing folk music in the coffee houses round Yonge Street.
In 1959 he met Sylvia Fricker, a 19-year-old with a pure soprano voice which merged with his in stunning harmonies. Ian & Sylvia outgrew Toronto, moving to New York, where they became stars in the Greenwich Village scene and were signed by Albert Grossman, already manager of Peter, Paul & Mary and soon Bob Dylan. Tyson claimed to have given Dylan his first joint; he also began songwriting at Dylan's instigation.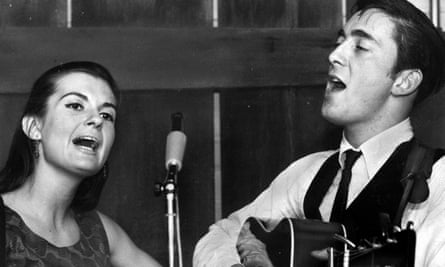 Ian & Sylvia's first, eponymous record, released in 1962, got them a gig at the Newport folk festival in 1963; their second covered a Dylan song, Tomorrow Is a Long Time, and included Four Strong Winds, which gave the album its title and became a country hit for Bobby Bare.
In 1964 they married, and released the album Northern Journey, which included Sylvia's song You Were On My Mind, a pop hit for We Five, and Ian's Someday Soon, which Judy Collins covered. In 1967 they left New York for Nashville; the following year their album Nashville was one of the first folk-rock records, ahead of Dylan's Nashville Skyline or the Byrds Sweetheart of the Rodeo. In 1969 their band, Great Speckled Bird, including the guitarist Amos Garrett, issued an eponymous album and toured on the Festival Express, a kind of movable Canadian Woodstock which included the Band, the Grateful Dead and Janis Joplin, travelling across the country by rail.
In 1970 Ian began hosting a music show in Canada on CTV, which ran until 1975. He released his first solo album, Ol' Eon, in 1973, and as Tyson and his wife's music grew apart, so did they. They divorced in 1975, giving a final performance at the Horseshoe Tavern in Toronto.
Tyson moved to Alberta to train cutting horses – which work like sheepdogs, separating steers from a herd – and released a second solo record, One Jump Ahead of the Devil (1978). The royalties from Neil Young's cover of Four Strong Winds financed the purchase of his own ranch, near Calgary. His music became more country and western; three excellent albums, Old Corrals and Sagebrush (1983), Cowboyography (1987) and I Outgrew the Wagon (1989) were hits.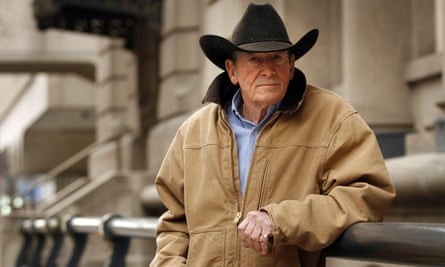 He became a star attraction at the National Cowboy Poetry Gathering in Elko, Nevada, with songs that referenced real cowboys, such as the rodeo star Casey Tibbs, and returned to his theme of loves lost, in songs such as Navaho Rug (written with Tom Russell).
His songs had always reflected his reality; in 2010 he wrote (with Jeremy Klaszus) an autobiography, The Long Trail. Shortly afterwards he revealed that he had been in a relationship with a woman from British Columbia, Evinia Poulos, on and off for 55 years. "I was always leaving her and regretting it," he said, like the chorus of one of his songs. In 1978, at 45 and not long after his divorce, he had met a waitress, Twylla Biblow; they married in 1986 and divorced in 2008.
Tyson received the Canadian Order of Merit in 1994. In 2002 he released Live at Longview, on which he performed Somewhere Over the Rainbow, showing the deep emotional range of his voice. He injured his vocal cords at a concert in 2006 and caught a virus the next year; on his later albums his tenor became a gravelly and cracked bass.
He is survived by a son, Clayton, from his first marriage, and a daughter, Adelita, from his second.