Rising artist AltBraKz stopped by to give us a closer look into his journey as an artist and his intricate production process.
---
Since the start of his career, Vancouver-based producer AltBraKz has been flipping the script of bass music and defying norms with his discography. Using creative methods of production, he's crafted a plethora of textured tunes that pull from a diverse repertoire of genres and sounds. Never one to shy away from going outside the box, AltBraKz continues to make his name with his unique approach to music-making.
AltBraKz's growing discography is versatile to its core, drawing from genres like drum and bass, glitch, and IDM to form cohesive experimental bass tunes that can captivate anyone who listens. Throughout 2022, the rising producer dropped several mesmerizing tracks like "Japanese Eggplant" and "Relax" that traverse territories of sound previously unexplored. For his first release of 2023, he brings even more flavor to the table with the Losing Control EP, which is bustling with breaks to feast your ears on.
To give us an even more in-depth taste of the sounds that define his artistry, AltBraKz cooked up a mix featuring original tracks like "Black & Blue" and "Metamorphosis" as well as tons of tunes from other noteworthy up-and-coming artists. If you find yourself a fan of boundary-pushing music, AltBraKz is certainly an artist to keep on your radar as he continues to rise through the ranks – get to know him better by listening to the mix below, and stick around to read our conversation!
Stream EDMID Guest Mix 356 || AltBraKz on SoundCloud:
---
Hi AltBraKz, thank you for spending time to talk with us today! Let's start by getting to know a little bit about your backstory. When did you develop a passion for music, and what led you to take that leap into producing ultimately?
My passion for music goes back to when I was a teenager playing guitar poorly in a few different shitty (I say this with love) punk bands. After I fell out with that scene, my involvement with making music kind of died off, although I always planned on getting back into it. After Skrillex's "Scary Monsters and Nice Sprites" came out, I started developing a taste for electronic music. In 2015 I started looking at what was involved in producing, and I bought my first DAW, Fruity Loops.
From drum and bass to left-field bass, glitch to IDM, you've ventured into a number of different genres – and aliases – in the time you've been making music. Listening to your discography now, it's hard to pin you down into any one specific sound. How has having this dynamic range of tastes helped you to become a better producer?
I don't want to say that I get bored quickly because it's not that, but I have a broad taste in music, so I'll hear something that I like and then think, "I could try that." Then I'll either explore that genre a bit or borrow some ideas or techniques from it and integrate that sound into my own thing. I have even made music in some genres I'm not particularly fond of under previous aliases to get a feel for it. It helps in many areas because it gives me more familiar ideas to pull from and more experience with sound design.
I find it particularly helpful with glitch and more left-field bass stuff because those genres don't have a set tempo or sound. They can exist in the same space as other genres. For a recent example, my track 'Metamorphosis' borrows heavily from dubstep, but it's not really a dubstep track. The second drop is a glitchy mess, but having previously produced dubstep made it very easy to allow that sound to influence the track.
You've stated that you take some unconventional and experimental approaches toward sound design. Could you walk us through a bit of your production process?
Ya, for sure! I like to do a lot of weird things with my sound design, either with unusual processing or implementing creative restrictions, but it's often different for each track or idea, so I have a lot of different workflows, but I usually start by getting my drums down. I usually synthesize my kicks and snares, although sometimes I'll start with the 808 kick that Addictive Drums 2 has. I love how it sounds; it's a good foundation for processing.
Then I start working on bass sounds, glitches, and stuff like that. I think the most unusual approach to sound design I've taken so far is using mouth sounds. I recorded a slew of different mouth noises to see if I could create a shortcut to some of the really wild glitch sounds I make. These often take extensive resampling, and by using my mouth to create much more complex foundations, the processing work was really cut down.
I use a lot of granular processing too, so I'll often just experiment with stacking multiple instances of the same plugins, especially when I'm not feeling particularly inspired; it can get some really interesting results. I'll take three instances of portal and then just set them all to different presets and tweak them. That will be sitting on some percussion or hat loop, and you end up with some pretty crazy top-end stuff to fill out a drop.
For all the gearheads out there, what equipment and/or software do you use to make all the magic come to life?
I have bought a ton of plugins over the last seven or so years, but I currently only use a handful of them. I can do most of what I need with only Ableton and the stock instruments and effects. There are a few plugins that I wouldn't want to be without, though. Last year Mr. Bill and Yum Audio collaborated on a plugin called Slap, and, like Frank's, I put that shit on everything. Ok, not really, but I've always wanted to make that joke. I do use it extensively when designing drums, though.
For granular processing, I either use Output's Portal or Kentaro's Stranular; they are both very fun plugins to experiment with; it's not a one-or-the-other situation. For synthesis, I used Serum for years but have since moved to Phaseplant. Its modular design allows for a lot more possibilities. One of the significant benefits of using Ableton is the number of racks people share; I recently discovered that Encanti of 'Zebbler Encanti Experience' had released a pack of meticulously crafted Ableton racks. The 'Donk' bass patch has become my go-to for writing sub-lines.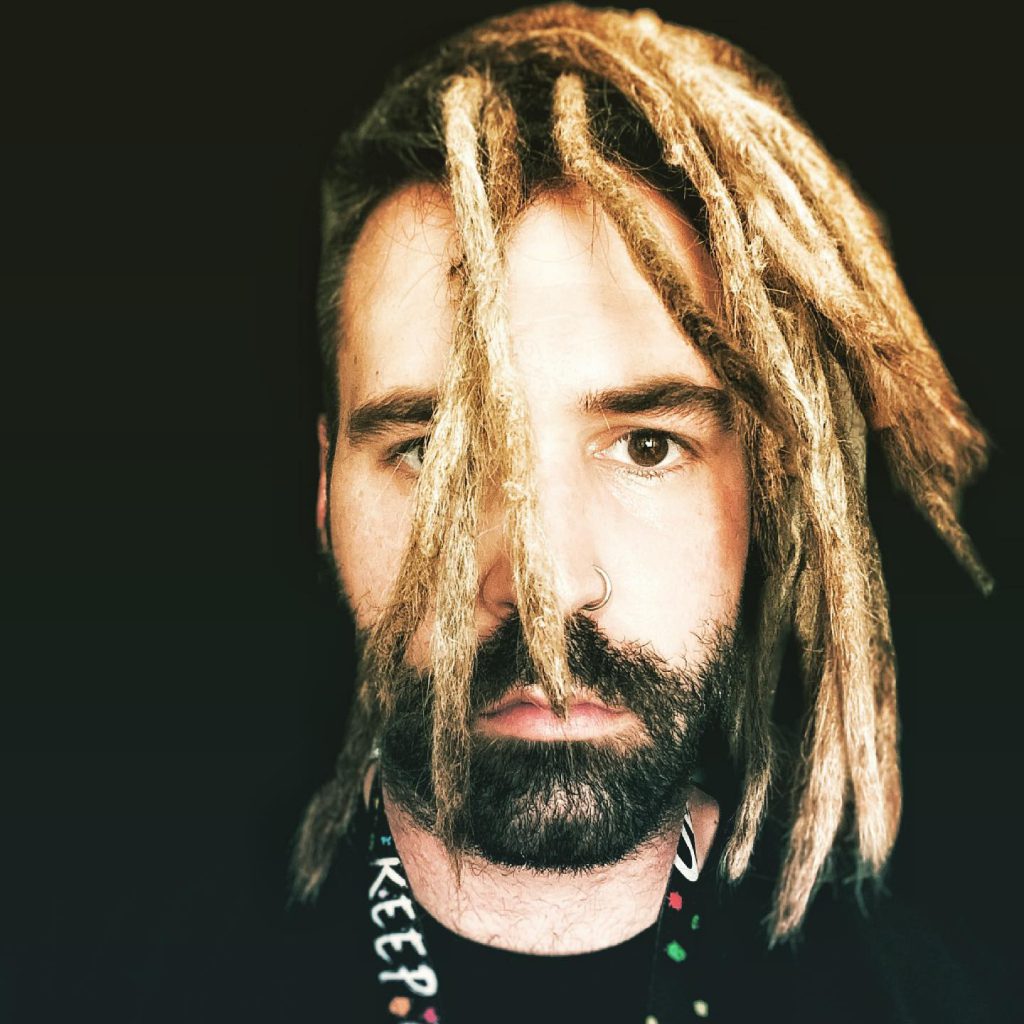 Who are some of the artists that have influenced you the most on your artistic journey?
This might be the most challenging question to answer because nearly every artist influences me in some way, at least if I enjoy their music. There is always some sound or arrangement idea that sticks out that I mentally store intending to implement or try to implement later. If I were to pick a few of the most influential, I would say Fanu, Reso, Noisia, and Mr. Bill.
Fanu was my first real introduction to drum and bass, and I love how he often keeps that old-school sound alive but with a darker, heavier edge. His 'Spooks' EP was one of my first Bandcamp purchases, and he inspired me to start chopping breaks. 
Reso and Noisia were my first introductions to Neurofunk and the modern DnB sound. I still listen to Reso's Ricochet album regularly, and Noisia lives in my head rent-free. 
If I could put a face on the importance of experimenting with sound design, it would be Mr. Bill's face. I've learned so much from his tutorials over the years, and he is an incredible teacher, sound designer, and artist.
With years of knowledge and experience under your belt, what is one piece of advice you would give to someone looking to start producing?
Don't waste too much time comparing yourself to other artists, particularly artists that have been doing this for many years. It doesn't benefit you outside of using reference tracks, and it's mostly irrelevant. If you make quality music and people enjoy it, or you are at least having fun, which is the most critical part, then how you compare to other artists doesn't matter. Focus on developing your own unique sound and just enjoy experimenting. 
The state of electronic music as we know it is in a constant state of "metamorphosis," to nod to your recent single. What role do you hope to play in shaping the ever-changing landscape of electronic music?
I don't know that I can single-handedly drive significant changes to electronic music's future, but I want to be a part of it. I'd like to see more experimental stuff get the attention it deserves, and this year I plan on doing a lot more mixes with a focus on glitch and experimental/left-field bass. So many incredible artists in these genres have a very small following and put out music that's produced to a professional standard. Most people don't end up hearing this music, and I would like to do whatever I can to change that.
Finally, what is the biggest milestone you've achieved in your career thus far, and what do you hope to achieve in the new year?
Towards the end of last year, in November, I released my sample pack, 'Ripples,' with Billegal Beats, and it was distributed to Splice; this is something that I always dreamed about doing. It's incredible to see my name and sound design on such a huge platform, and I'm super grateful to Mr. Bill and the Billegal crew for making that dream a reality. 
I have some big plans for 2023. I have an EP coming out at the end of the month with Billegal Beats. Very much looking forward to its release as it's not like anything I've released before. I also plan on doing my first in-person set this year; even if I have to throw the event myself, I will make it happen.
---
Follow AltBraKz:
Website | Facebook | Twitter | Instagram | SoundCloud | YouTube