In 2003, the world was at war.   
Not just in Iraq, though. There was also a battle being waged between the self-appointed custodians of "real music" and the invading forces of "fake music" personified by TV talent shows involving singers, judges and a ravenous voting public.
And, for some reason, there was also a war against bass players underway, with 2003 being the peak of a strange wave of bass-less rock duos.
So let's jump in the nostalgia-copter and head back to that strange time 20 years ago for a look at some of the great albums of 2003 — a list guaranteed to make you feel old and have you reaching for the CD wallet stashed under the front passenger seat of your car.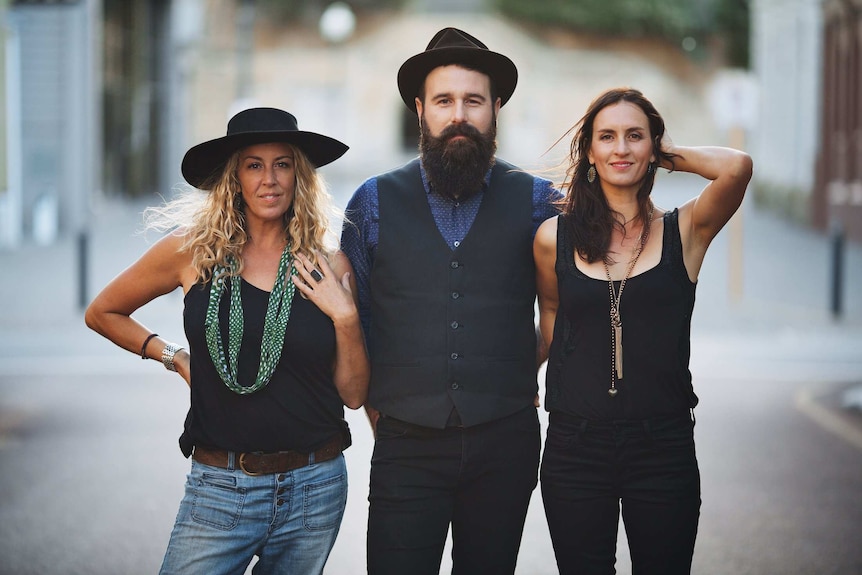 Up All Night – The Waifs
An overnight sensation 11 years in the making, this folk trio burst into the mainstream with their fourth album, as Australia (and some parts beyond) finally caught on to the talents of Josh Cunningham and two self-described "regular" West Australian fisherman's daughters, the "middle-class, folk-singing, guitar-playing" Simpson sisters.
The previous year they had earnt two ARIA nominations, three songs in triple j's Hottest 100, their first top 50 single (London Still), overseas interest, and the support slot for Bob Dylan's 2003 Australian tour.
But Up All night took them to the next level.
The album debuted at number three on the ARIA album charts, won them four ARIA Awards, yielded another two songs in the Hottest 100, and changed the band's trajectory forever by turning a wider audience on to their intelligent, laid-back Australiana tunes.
Vulture Street – Powderfinger
As far as mission statements go, calling your new album's opening track "Rockin' Rocks" is about as forthright as it gets.
The Queensland quintet were one of Australia's biggest bands by the time they dropped their fifth album, and Vulture Street's collection of no-nonsense rock songs and scream-along anthems only cemented the band's spot as an Aussie icon.
The album sold almost half-a-million copies, won four ARIAs (including album of the year and best group), yielded five songs in triple j's Hottest 100 (including an unprecedented three in the top 10), and gave us some of the 'Finger's biggest belters, including Sunsets, Love Your Way and (Baby I've Got You) On My Mind.
Innocent Eyes – Delta Goodrem
In Australian music, 2003 was the year of Delta — for 27 weeks her debut album sat at number one on the ARIA charts, leading to a landslide of seven wins at the ARIA Awards.
While 2003 also saw the former Neighbours star battle and beat Hodgkins lymphoma, her star ascended at a rate never seen before in Australia, as the nation fell in love with her powerful voice and inspirational ballads.
Innocent Eyes went to number two in the United Kingdom too, and became the biggest-selling album of the decade in Australia, standing behind only John Farnham's Whispering Jack as the biggest Aussie album ever in this country, with over 1.1 million copies sold. 
The Official Fiction – Something For Kate
Only six bands were able to momentarily bump Delta Goodrem off the top of the ARIA album charts in 2003, and one of those was a little band from Melbourne called Something For Kate (SFK).
The much-loved trio's fourth album The Official Fiction was their first to go to number one on the charts, and gave us the single Deja Vu, which was number 11 in the 2003 triple j Hottest 100 and one of only two SFK songs to crack the ARIA singles chart's top 20 (the other is Monsters).
But like all SFK albums, the big single is surrounded by an embarrassment of riches, showcasing Paul Dempsey's gift for writing beautifully interesting guitar-led pop-rock with a twist in the tail.
Feeler – Pete Murray
Have you heard the one about the up-and-coming athlete who learnt guitar at 22, threw away his sporting dreams, signed a record deal on the strength of his independently released debut album, and released one of the biggest Aussie records of the noughties?
Pete Murray's Feeler sold more than half a million copies and it was one of the biggest-selling albums in Australia for three years running, including being the third-biggest-selling album of 2004 — in fact, it went on to be the 17th-biggest-selling album of the decade in this country.
The album's title track perfectly hit the "soul surfer" vibe that was coming through (think Jack Johnson/Xavier Rudd/Donavon Frankenreiter), but it was third single So Beautiful that rocketed into the ARIA top 10 and soundtracked tens of thousands of break-ups.
Get Rich Or Die Tryin' – 50 Cent
Gangsta rap was back in 2003 thanks to Curtis Jackson III, aka 50 Cent, who was exactly the kind of rapper your parents warned you about.
He had the street cred (having been shot nine times), and with Eminem and Dr Dre at the desk, he took his tales of pimpin' and stayin' high all the time worldwide, making this the supreme hip hop record of the year.
Lead single In Da Club spent five weeks atop the ARIA singles chart and pretty much the whole of 2003 soundtracking dancefloors with its rhymes about drugs, hugs and bottles full of "bub'".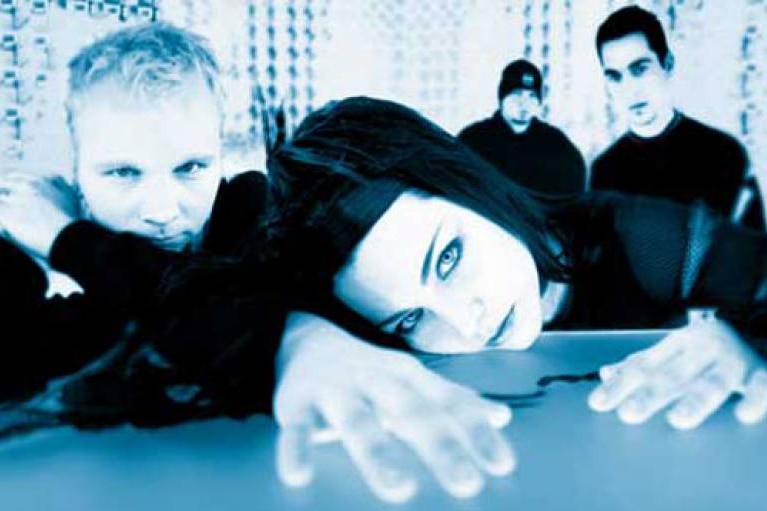 Fallen – Evanescence
Record label pressure led to Evanescence's debut single Bring Me To Life having a male rapper added to it, and their debut album Fallen being promoted in the Christian rock realm — two things singer Amy Lee heavily protested.
Whether the label was right to do so or not, Evanescence achieved a rare nu-metal number-one single in Australia, with Bring Me To Life holding the top spot for a remarkable six weeks.
Fallen finally crept to number one on the Aussie album charts in 2004 and was one of the biggest-selling albums of 2003-2004, thanks to its very of-the-time mix of crunching guitars, gothic atmospheres and Amy Lee's remarkable voice, which all combined on suitably epic tracks like opener Going Under.
Meteora – Linkin Park
The other big nu-metal sound of 2003 came from Linkin Park, whose second album sold marginally more copies in Australia than Evanescence's mega-selling Fallen, showing there was no shortage of teens in need of music to reflect their existential angst in 2003.
Meteora yielded five top 40 singles in Australia, the biggest of which was Numb, which reached number 10 before getting mashed-up with Jay-Z's Encore the following year and hitting number three.
And while it's easy to dismiss Linkin Park as an early noughties fad, it's worth noting that each of their seven studio albums reached the top three on the US and Australian charts, and that they have an envious record of 20 top 50 singles here.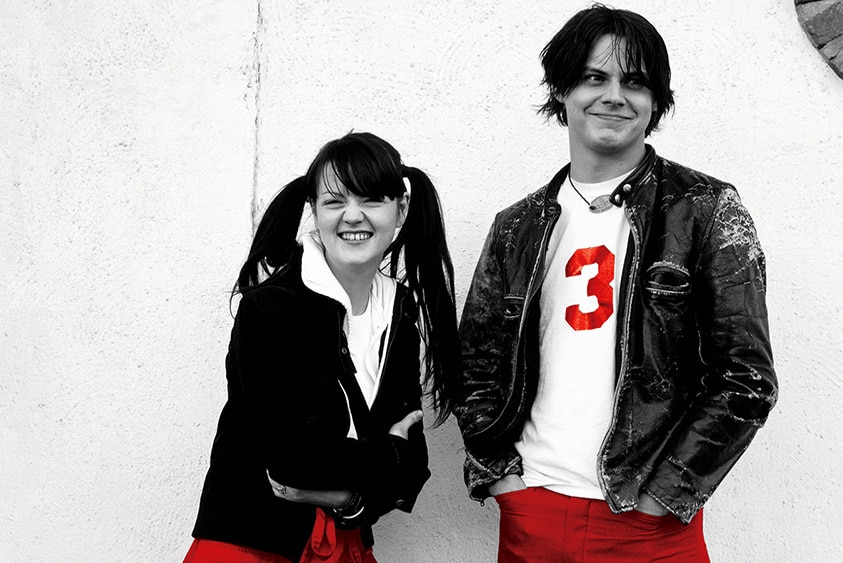 Elephant – The White Stripes
The critical darling of 2003 was rock duo The White Stripes and their massive fourth album Elephant, which gave us the Grammy-winning, sporting-chant-in-waiting Seven Nation Army.
With five songs in the Hottest 100 (but sadly not the awesome There's No Home For You Here) and topping many critics' best-of-2003 polls, the record has rightly come to be regarded as a classic, scoring spots in book 1001 Albums You Must Hear Before You Die and Rolling Stones' 500 Greatest Albums of All Time list.
Elephant (and 2001's White Blood Cells) put The White Stripes not only at the vanguard of the garage rock revival, but that strange fad of bands not requiring a bass player (see also The Black Keys, The Mess Hall, Lightning Bolt, The Evens, early Eagles of Death Metal).
Fever To Tell – Yeah Yeah Yeahs
Speaking of not needing a bass player, New York trio Yeah Yeah Yeahs also did away with the bottom end and carved out another classic of the early noughties garage rock revival with their debut record Fever To Tell.
Also listed in 1001 Albums You Must Hear Before You Die and Rolling Stones' 500 Greatest Albums of All Time poll, the million-selling record delivered on the promise of their underground live shows and the stage presence of enigmatic frontwoman Karen O.
There are big riffs and rock-outs on tracks like Date With The Night, Y Control, and Pin, but the masterpiece in the middle of it all is Maps — a hugely influential heartbreaker rightly regarded as one of the best songs released this century.
Think Tank – Blur
One of the great bands of the Britpop era went out with a whimper as opposed to a bang, but it was a beautiful, artful whimper.
Guitarist Graham Coxon, who had made the previous two albums Blur and 13 such wonderfully noisy affairs, departed early in proceedings, leaving behind his bandmates to make an experimental and largely downbeat record with an occasional dash of world music spice.
While the band would be back in 2015 with under-rated reunion record The Magic Whip, Blur signed off with an album that included Out Of Time — one of the most beautiful tracks in their extensive catalogue.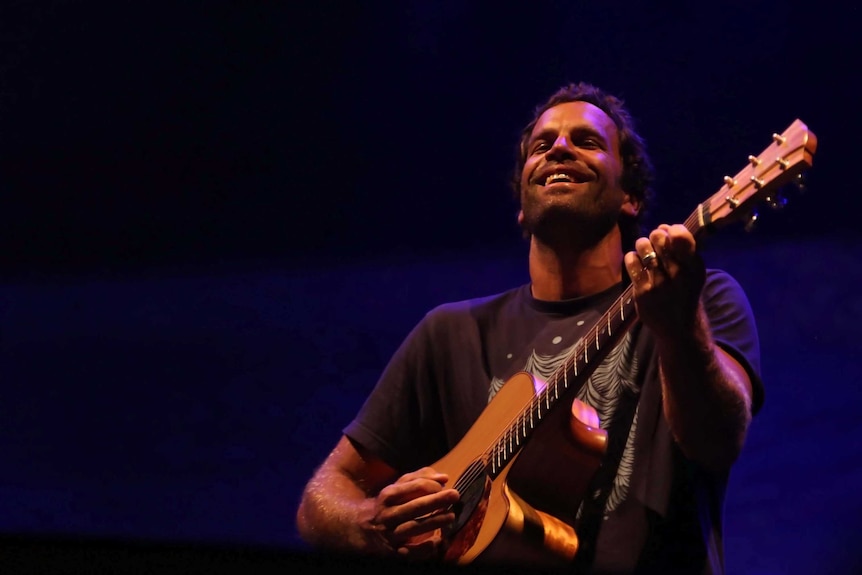 On and On – Jack Johnson
The patron saint of the early noughties "soul surfer" music boom was former surfer Jack Johnson, who moved from cult fave to soundtrack of a million chill beach parties with his second album On and On.
Debuting at number two on the ARIA charts, the record was one of the biggest-selling albums of the year in Australia, and landed three tracks in triple j's Hottest 100.
The biggest hit was Taylor, which snuck into the top 30 of the ARIA singles chart and the top 20 of the Hottest 100, helped along by a film clip featuring Ben Stiller that scored plenty of airplay on Channel V and rage. 
St Anger – Metallica
Heavy metal's undisputed kings did everything possible to sabotage their careers in the early 2000s — their legal battle with Napster made them look like crass capitalists, while their warts-and-all doco Some Kind Of Monster made them look like narcissistic lunatics.
Somewhere in the middle of all that was St Anger, an album that most critics tore to shreds for its raw riffs, lack of solos, interminable length and a snare drum sound so irritating that it remains a talking point to this day (seriously: Google "st anger snare sound").
The album still sold over four million copies and has been somewhat re-evaluated over the years.
It definitely has its defenders, but no other record of 2003 made an impact — good or bad — quite like St Anger.
Hail To The Thief – Radiohead
After their claustrophobic game-changing double-shot of Kid A and Amnesiac took years to painstakingly assemble, Radiohead decided to make their next album quickly, and ended up recording the bulk of Hail To Thief in two weeks in the very un-Radiohead locale of Los Angeles.
The results have a swagger and immediacy to them, as well as a huge amount of diversity across the sprawling 14-song tracklist, though the band would come to denounce the album as overlong and unfinished.
It's largely seen as a mid-range Radiohead album these days — above Pablo Honey and The King Of Limbs, but below OK Computer, In Rainbows and Kid A.
But many fans love it for much-adored songs such as There There, 2+2=5 and A Wolf At The Door.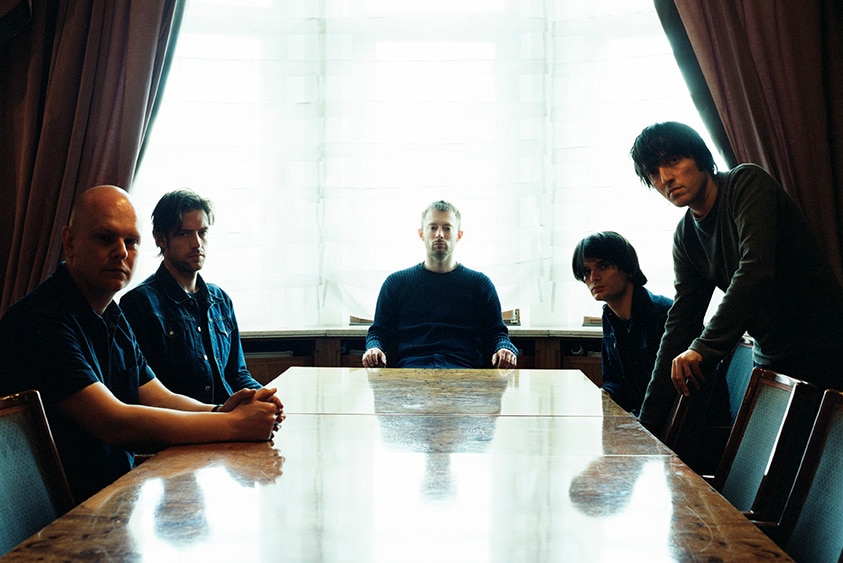 Dangerously In Love – Beyoncé
Beyoncé took the reins of Destiny's Child's massive 2001 album Survivor, and then made the most of her band's hiatus by releasing a career-defining debut solo album.
Writing and recording an incredible 43 songs for the project, Dangerously In Love began Queen Bey's as-yet-unbroken run of chart-topping albums in the US, while the irresistible lead single Crazy In Love was the first of Beyonce's seven number one singles on the Billboard charts during her remarkable 20-year solo career.
The love was shared worldwide, with the album selling 11 million copies, though Aussies were more into the lead single than the album. Crazy In Love sold over 600,000 copies here and got plenty of parties started, while Dangerously In Love only sold around 210,000. 
Elephunk – The Black Eyed Peas
Speaking of getting parties started, LA hip-hop group The Black Eyed Peas had to rework one of their Elephunk singles to remove an ableist slur, but it didn't stop them from being one of the biggest acts of 2003 and 2004.
Elephunk boasted four top five ARIA chart singles, including the reworked Let's Get It Started, with the biggest of them all being Where Is The Love?, the third-highest-selling single in Australia in 2003, behind only Guy Sebastian's Angels Brought Me Here and Eminem's Lose Yourself.
It took the record over a year to climb to the top of the album charts in Australia, but it would eventually sell around 300,000 copies, and set the group up for their even-bigger 2005 release Monkey Business.
Absolution – Muse
This British rock trio edged towards mega-stardom with their second album Origin Of Symmetry, but it was album number three that took them there — at least in their home country.
Absolution topped the UK album charts and produced four top 20 singles there, leading to Muse headlining Glastonbury in 2004.  
The band remained under the mainstream radar in Australia, but triple j listeners knew where it was at, voting Absolution as the ninth best album of the year and three of its songs into the Hottest 100. However, it took until their next album Black Holes and Revelations before Muse would finally get a number one album in Australia.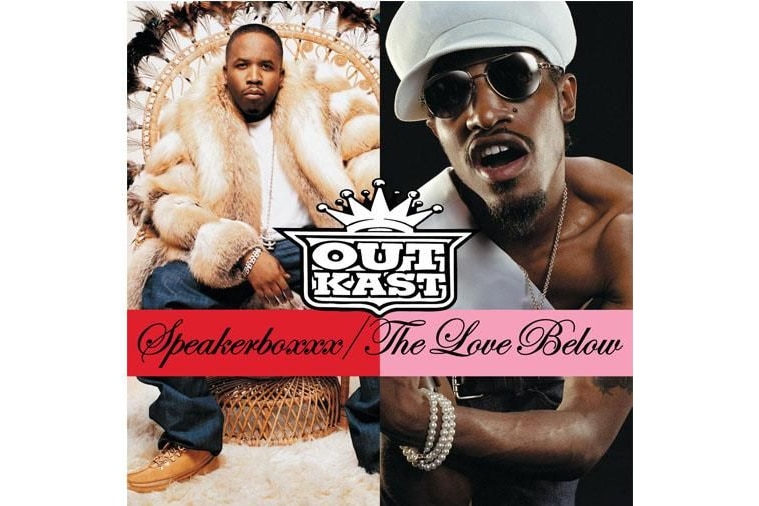 Speakerboxxx/The Love Below – Outkast
Best known for giving us the genre-bending hit Hey Ya! (number two in the Hottest 100, two weeks at number one on the ARIA singles chart), Outkast's fifth long-player is a dense, adventurous double album that showed how far the Atlanta duo could take their music.
The album is effectively two solo albums stuck together — there's Big Boi's hip-hop-heavy Speakerboxxx and Andre 3000's Prince-like The Love Below — with only a handful of songs featuring both members.
Listening to the album from end-to-end is quite a ride and it's in 1001 Albums You Must Hear Before You Die for good reason. But you can't help but wonder how many people bought it on the strength of Hey Ya! and were completely confused by the fact no other song on either disc sounds anything like it.
Get Born – Jet
The number of Aussie rock bands that have made it big overseas can still be counted on both hands, but among them is Jet, who stuck a big middle finger to critics on their way to the top.
Get Born spent a remarkable 84 weeks in the ARIA top 50, with 75 of those weeks in the top 25, including two weeks at number one a full eight months after the album was released.
While many critics shunned their retro-rock sound as derivative, Jet and their debut album won over the masses, selling over four million copies worldwide, yielding four songs in triple j's Hottest 100 (including 2003's number one Are You Gonna Be My Girl?), and becoming the biggest-selling album of 2004 in Australia.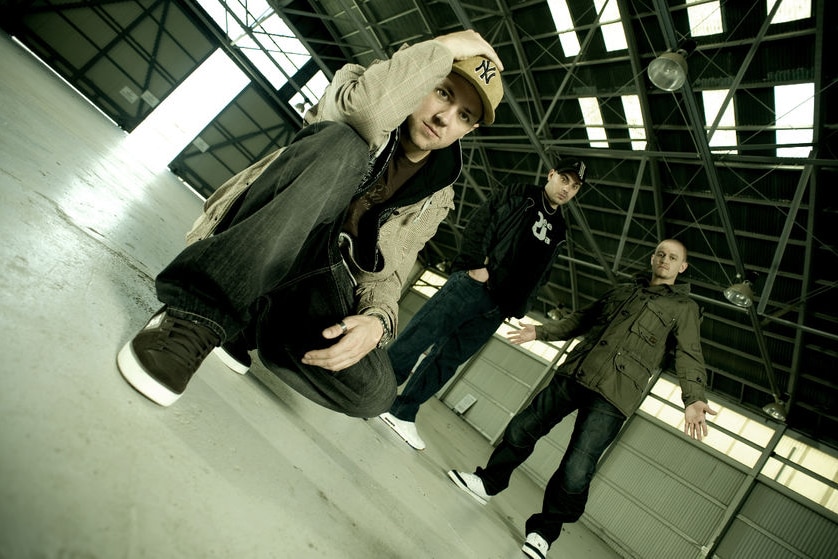 The Calling – Hilltop Hoods
It only just scraped into the top 50 of the ARIA Album charts, but no other Aussie album changed the landscape of Australian music in 2003 quite like the Hilltop Hoods' third record.
While groups like The Herd and 1200 Techniques had made some headway, the Hoodies' The Calling helped shape Aussie hip-hop and its reputation among fans and critics, with the band's next five albums all debuting at number one and ushering in a new era of Australian music.
The album would eventually go platinum (over 70,000 copies sold) and single The Nosebleed Section would sell almost half a million copies, also landing in the Hottest 100's top 10 — one of the first of a record-setting 22 appearances in the Hottest 100 annual triple j poll by Hilltop Hoods.
Blink-182 – Blink-182
One of pop-punk's most juvenile bands got serious and grew up on their self-titled fifth record — a move that alienated some old fans but won them plenty of new ones.
Tracks like I Miss You (which boasts over half-a-billion plays on Spotify) showcased their new-found sonic and lyrical maturity, and along with lead single Feeling This reached the top 20 of the ARIA singles charts, for just the second and third time in the band's career.
The trio would combust soon afterwards ahead of multiple inevitable reunions, but the legacy of Blink-182's self-titled record has grown immeasurably over the years, with many seeing it not only as Blink's best record, but one of the best and most interesting punk records of the early 2000s.
In The Zone – Britney Spears
Blink-182 weren't the only ones growing up in 2003 — Britney Spears' music was getting more mature by the album, peaking with her fourth album in five years.
In The Zone produced three number one singles in Australia — Toxic, Everytime and Me Against the Music, with the latter featuring Madonna, who shared a much-publicised pash with Britney and Christina Aguilera at the MTV Video Music Awards in August 2003.
While In The Zone didn't sell as well as previous Britney records — three million sold compared to the previous album's 10 million worldwide — it's seen as the one where the popstar grew up and asserted more control over her music, making for a more diverse and experimental release than her previous ones.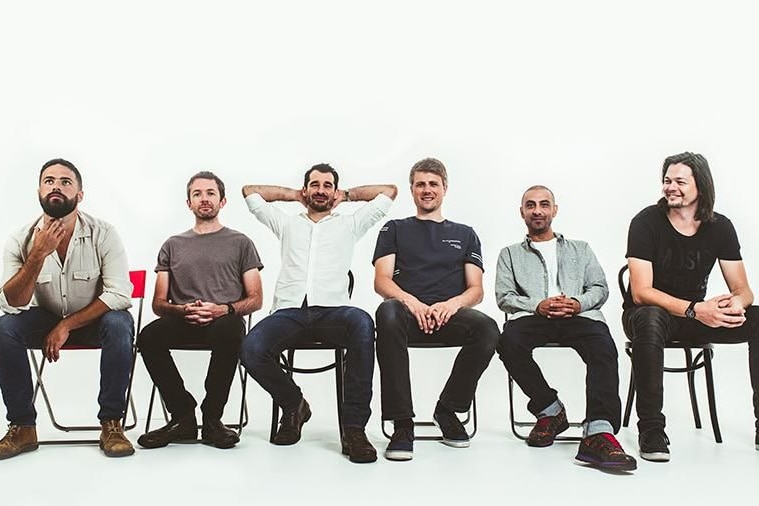 The Cat Empire – The Cat Empire
Born out of Melbourne's jazz clubs, The Cat Empire built their fanbase through residencies, festivals and two live albums before finally releasing a studio album.
Their self-titled debut bounced in and out of the ARIA album charts for a year and half, peaking at number 15 and selling over 200,000 copies on its way to earning six ARIA nominations as well as some fans in the UK.
With three Hottest 100 entries — Hello (number six), Days Like These (number 37) and The Chariot (number 100) — The Cat Empire presented a sound that is still unique in Australian music, blending jazz, hip hop, Latin, ska, reggae and alt-rock.
Just As I Am – Guy Sebastian
The Idol phenomenon arrived on Australian shores in 2003, bringing us the now-classic battle between Guy Sebastian and Shannon Noll.
With Sebastian the victor, this album was rush-released within a month of his win, and despite coming out on December 8 it still managed to be the fifth-biggest-selling album in Australia for 2003.
Led by the ballad Angels Brought Me Here, Just As I Am would be the 28th-biggest-selling album of the 2000s, and kick off Sebastian's unrivalled post-Idol career, which now includes seven ARIAs and six number one singles.
Welcome To The Monkey House – The Dandy Warhols
The lack of interest in their homeland continued, but American band The Dandy Warhols once again found favour in Australia and the UK with this record named after a Kurt Vonnegut anthology.
The only Dandys album to crack the top 10 in Australia and one of only two to reach the top 20 in the UK, Welcome To The Monkey House was initially rejected by Capitol Records and only released after Duran Duran's Nick Rhodes gave the album a shinier, synthier, new wave-ier remix (the original mix was released in 2009 as The Dandy Warhols Are Sound for comparison).
The album boasts two of their biggest songs — the much-loved You Were The Last High, and We Used To Be Friends — with the latter reaching number 13 in the Hottest 100 and ending up (bizarrely) as the theme song for My Kitchen Rules.