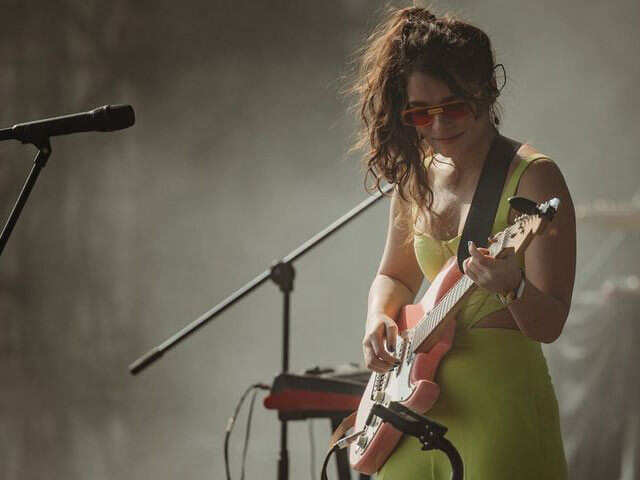 Image: Instagram
Ever since Lollapalooza announced last year that the famous music festival was making its Asia debut in Mumbai, we have been excited beyond words. And Day 1 of Lollapalooza India has definitely set the benchmark for all future live entertainment in the country! Producer and Promoter BookMyShow ensured a banging start to India's largest global music experience, and Lollapalooza brought its multi-genre music and world-class touch to Mahalaxmi Race Course.
Needless to say, headliners Imagine Dragons were welcomed with infectious energy and loud cheers. The Grammy winners took over the BudX stage, treating fans to their massive hits like Thunder and Radioactive, and new favourite Bones. Dan Reynolds taking the Indian flag from an audience member and waving it high and tall was definitely a sight that will not be forgotten!
While music producer Zhu dropped his all-time hits like Desire and Faded, rock legends Greta Van Fleet sang their all-time classic Highway Tune with the crowds chiming in, and put a fitting end to an amazing performance with some acoustic rock. Indie-pop band Japanese Breakfast put everyone in a trance with their audio and visual treat. Finally, our very own Brown Munde AP Dhillon and Shinda Kahlon got the audience grooving to the best of the former's tracks, including some latest ones from his recently released album Two Hearts Never Break The Same.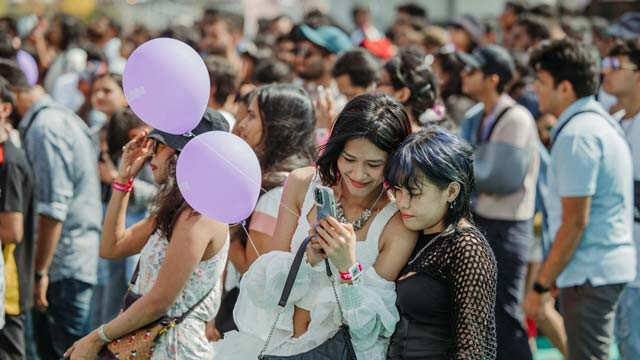 Image: Instagram
Homegrown artists wowed audiences too, with Easy Wanderlings setting the vibe for the day ahead on the NEXA stage, followed by Aswekeepsearching stealing the show with an orchestral rearrangement and a grand live setup curated just for Lollapalooza India 2023. Abhi Meer's special set featured house music tracks way back from 1991, which is the year Lollapalooza debuted. Indie band The Yellow Diary ended their nation-wide tour with a mesmerising performance, with other artists like Mali, Kumail, Sandunes, Madboy/Mink and Bloodywood adding versatility to the event.
The inaugural edition of the Lollapalooza India festival is a two-day event. Originated in America, the iconic music festival has expanded internationally to South America and Europe over the past decade, with this being the eighth destination so far. Excited fans, vivacious energy, cooler temperatures all add towards making some warm memories. Among Bollywood biggies grooving to the music and cheering for their favourite artists were Kajol, Hrithik Roshan, Sussanne Khan, Huma Qureshi, Rajkummar Rao and Patralekha.
Day 1 of Lollapalooza India also saw the unveiling of #LollaForChange led by BookASmile, the charity initiative of BookMyShow. As a minimal waste festival zone, managing food wastage and increased sustainable measures were at the core of the festival.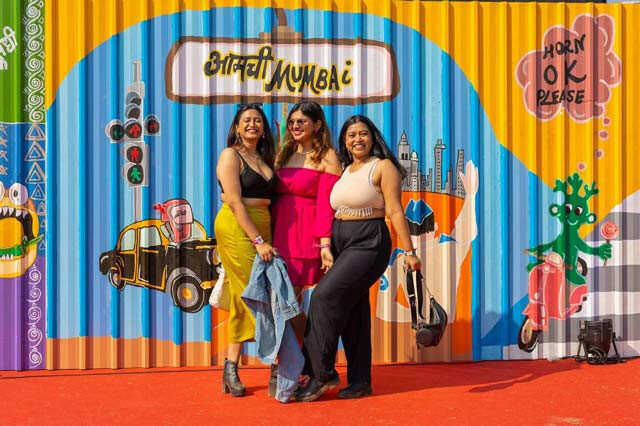 Image: Instagram
Signature Lollapalooza India installations curated with a local flavour were an absolute hit. Keeping to its ethos of creating entertainment-led experiences in Art & Music for the lesser privileged, BookASmile collaborated with the Aravani Art Project, an art collective of people from the transgender community, along with Mumbai-based artist Suparna Jashnani, to bring to life The Wall of Inclusivity in Expression. The gigantic 100-ft landscape had everyone awestruck. The visual treat included colourful, vibrant installations lining the Mahalaxmi Race Course, such as the festival's themed Wall of Rotating Blocks – neon rotating blocks that move with a single touch, and the 16 ft Lolla Rubik's Cube. Attendees could also soak up the vibe with a bird's eye view atop the giant Lolla Ferris Wheel. The Lollapalooza India Inflatable welcomed all festival fans, proudly hoisting the India flag and the seven other countries the festival has travelled across globally.
That's not all, the Lolla Food Park was the biggest hit with different themes and cuisines spread across four specially themed zones or lanes, featuring over 60 brands. What's more, all food brands had whipped up a special Lollapalooza dish exclusively for the festival!
The BudX, Walkers & Co., NEXA and the Perry x Budweiser Beats stages await more enthusiastic fans from across the world making their way into the Mahalaxmi Race Course for Day 2 of Lollapalooza India 2023 to catch a glimpse of 20 musically gifted artists with special acts lined up!
Read more: Diljit Dosanjh To Make Coachella Debut In 2023!